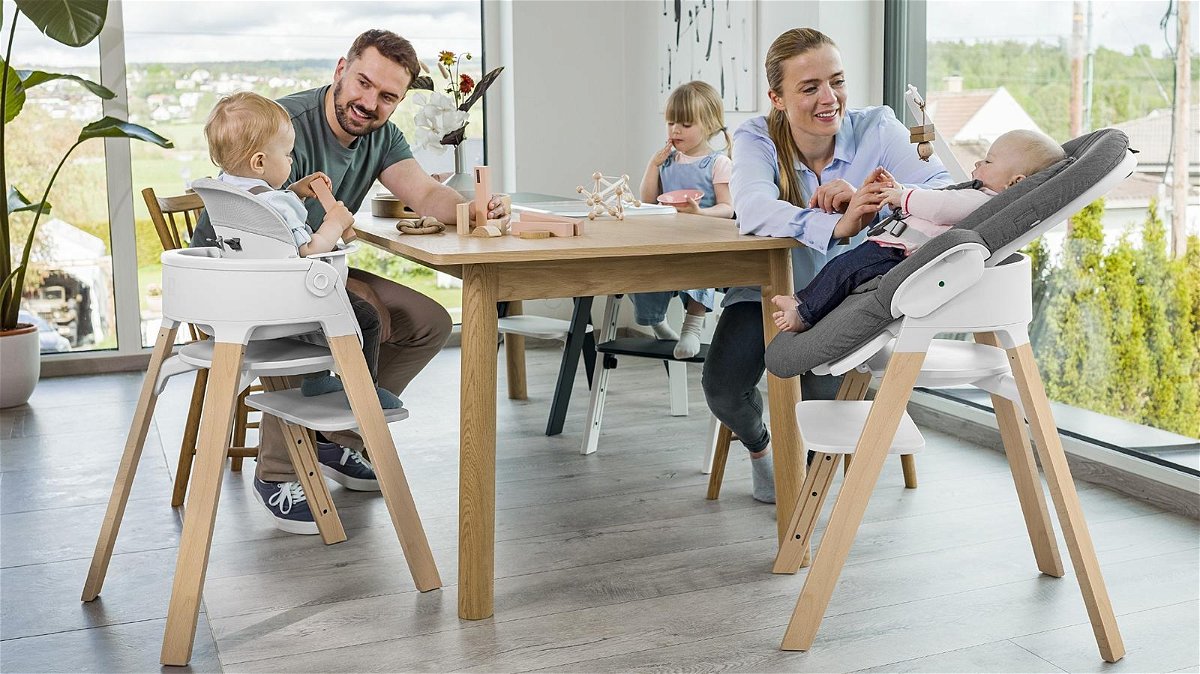 Modern parents rely on practical modular systems. Because they know that this is not only space-saving, but an intelligent solution that should ideally accompany their growing child. The Stokke Steps high chair is the perfect companion that no family should be without.
All-in-one seating systemThe
Stokke Steps high chair for children guarantees your child maximum comfort with the best adjustment. This applies to children of all ages. Because the Stokke high chair grows with your child.

Due to the best possible ergonomics, the Stokke high chair is also suitable for baby rockers. The purchase of an additional rocker can therefore be dispensed with. Parents can definitely save money here. High chair and baby bouncer are perfectly and easily compatible with each other. The design ensures a smooth rocking motion and guarantees your newborn a reliable and peaceful sleep.

The rocker is attached in such a way that it is close to the parent's hand. On the one hand, this is easy on the back for mum and dad, and on the other hand, the closeness strengthens the bond between parents and child.

A baby rocker, which is also available from Stokke as a soft padded seat, can be attached quickly and easily with a handle.

The footrest of the high chair by Stokke is adjustable and guarantees your child a solid support. The design helps children develop their independence as they learn to climb out of the chair without help.


Protection and safetyThe
Stokke high chair offers protection and safety through the ergonomics of the rounded backrest. When the child is sitting at the table, he or she cannot fall out the sides when casually taking the seatposition. In addition, the table, which is also rounded, has a sufficient seating area to provide the child with optimal conditions for sitting comfortably.

Sometimes children like to fidget and it must be ensured that a high chair can withstand this. The Stokke high chair is of sturdy robustness and is made of high-quality oak wood and is free of harmful ingredients.

The ergonomics of the high chair make it impossible for it to tip over when the child is restless. The high chair guarantees rock-solid stability and ensures maximum safety even for very active children who find it difficult to sit still.
Care
A high chair of this quality needs the right care and handling. Exposure to strong sunlight can cause the wood of the high chair to discolour.

It is not advisable to clean the high chair with conventional cleaning agents. Cleaning with a damp cloth is sufficient.