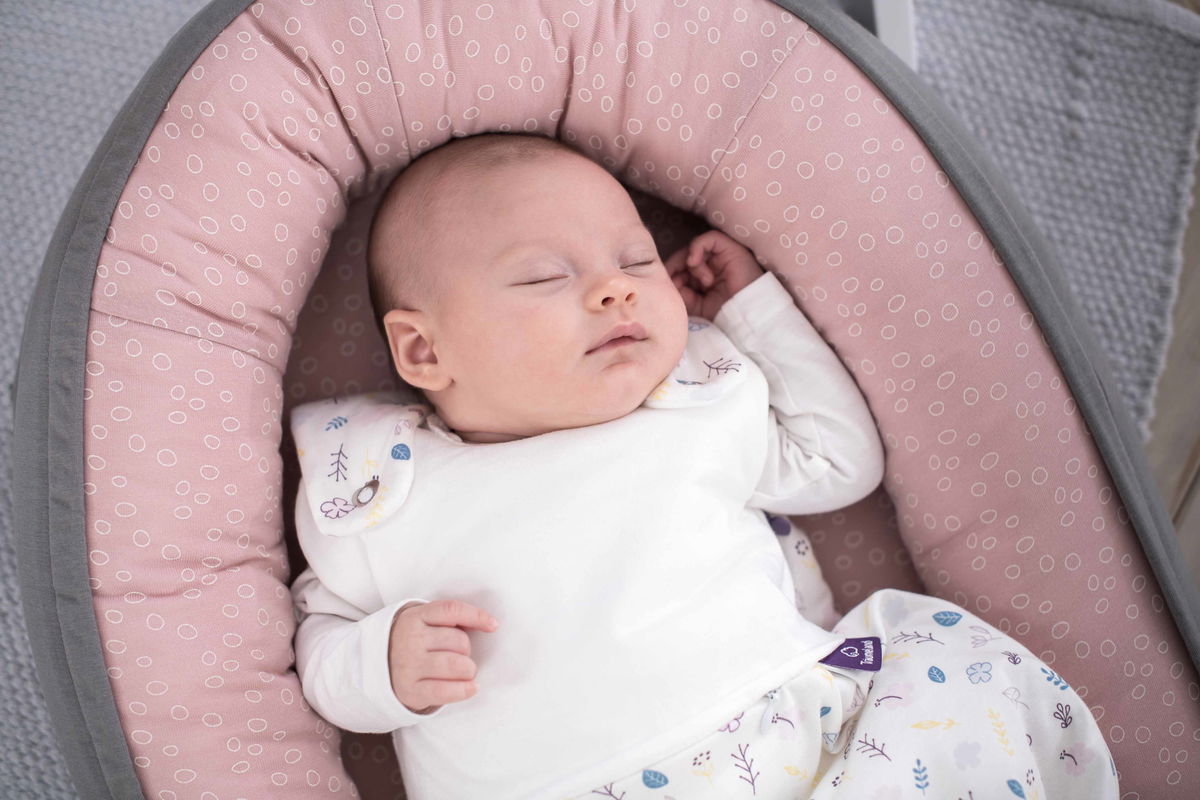 Positioning pillows, puck sheets and bed rolls
How you should bed your baby is an important question. A baby cannot yet decide for itself how to lie and your little one's soft skeleton is still malleable. The lyingpositions of your baby should vary. For anti-reflux prevention, for ergonomic lying, for falling asleep faster, for calming or for suppressing the mororeflex, you will find practical products so that mum, dad and your baby have restful, relaxed nights.

Many companies have specialised in the manufacture of these articles and produce supporting items such as positioning pillows, wrapping sheets, support or wedge pillows, bed rolls as well as wrapping sheets.
A bed roll is dimensionally stable and can be used in many ways. Use it as a boundary in the child's bed, as a border in the playpen, to support your little one in the side position or simply to keep the little one soft and safe in the roll. They are also suitable for playing or cuddling. You can get them in variable sizes and designs.
Positioning pillows for babies
Positioning pillows are also produced in different designs. They are filled with body-adapting microbeads, polystyrene beads or tiny balls of EPS. Some of the bedding pillows offered have a U-shape. The curved shape makes the positioning pillow wonderfully suitable for supporting your baby in its first attempts at sitting. When lying down, it ensures that your little one has a cosy, comforting border around him and that his head and sides are protected. Young mothers also use them as breastfeeding pillows.
You can also find a lateral positioning set for your baby here. The side position is considered the best for babies. To prevent the baby's head from deforming when lying on one side, your little one can lie on either the left or the right side. You can easily adjust the width with Velcro straps.
Pillow to help your baby fall asleep
The sleeping aid, which is reminiscent of a cocoon, is also practical. Your darling will feel comfortable and safe in this ergonomically shaped bed. A cute toy can also help them fall asleep. The head retains its freedom of movement, which prevents flat head syndrome. The support cushions made of memory foam also ensure a beautiful head. Because of the fifteen degree inclination, they prevent heartburn and the Moro reflex. In case of a cold or frequent spitting up, the airways remain clear. Wedge cushions provide the same service. Some even harmonise with the side bedding set. Various replacement covers in pretty modern colours or patterns are available in the range for all models.
To suppress the Moro reflex and the associated waking of their darling, young parents often use the so-called swaddling. This method of wrapping the child, leaving only the head uncovered, has existed for many decades. For this method of soothing, there are puck covers in this category.
The limbs are prevented from twitching by wrapping them in this cloth. This makes it easier for the baby to fall asleep and sleep through the night. If a swaddle cloth is too difficult to use or if you want to wean your baby off swaddling, then simply use the small sleeping bags. They are closed with zips or Velcro fasteners. Your baby is not wrapped quite as tightly in these. Nevertheless, this swaddling cloth gives your little one a feeling of security and suppresses the startle effect.