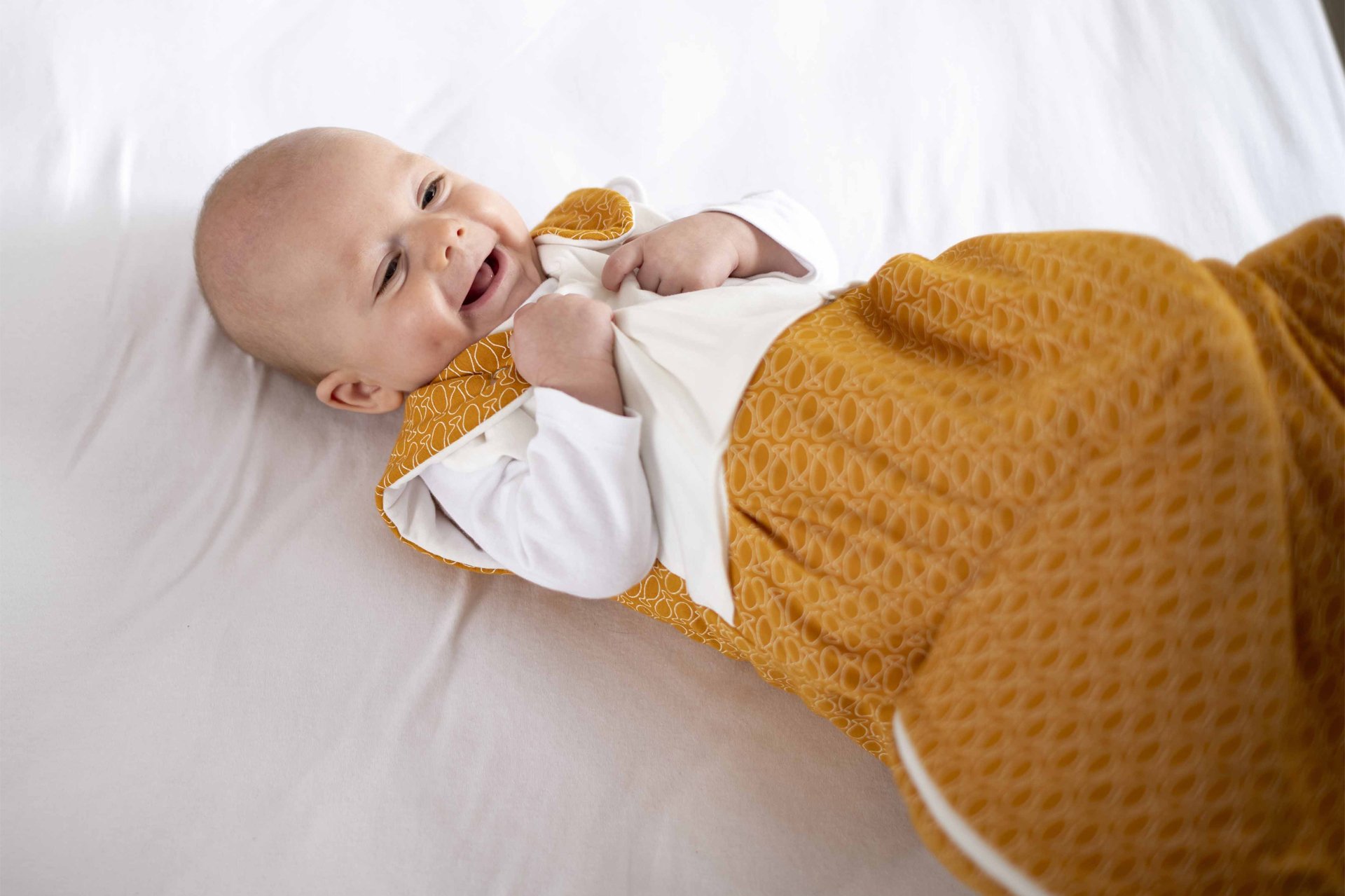 The sleeping bag - well protected and sheltered in summer and winter.
A child's sleep is absolutely essential for its development and well-being from birth. Safety is the top priority for parents. Especially during this important time for the child, it must be well protected and sheltered. The sleeping bag envelops the child like a safe cocoon and warms it in winter and cools it in summer. The head is free at all times and the child sleeps safely and soundly. You can lie your child down quietly and know that your child is well protected.
Safety first
In the past, it was always said that a blanket and a pillow were enough and the baby would sleep safely and soundly. This is now outdated. The fear of sudden infant death syndrome has made parents rethink this. The right temperature when sleeping and making sure that the head does not accidentally slip under the covers are the most important indicators of a safe and secure sleep. A sleeping bag in the right size offers you this security.
The right size
Children are constantly growing. Especially in the first year of life, they grow at a record pace. Keeping an eye on the right size of baby sleeping bag is difficult, but very important. A sleeping bag that is too big can slip over the head and thus become a risk. If the sleeping bag is too small, your child will lack legroom and feel cramped and unable to stretch out. This is where the manufacturers have come up with something. Press studs on the closure at the arms regulate the length and the sleeping bag can be individually adjusted to the size of your child. Especially when your child starts to walk, the right size is also so important so that your child can move at the pace he or she wants and it is comfortable. The sleeping bag should be 10 to 15 centimetres bigger than your baby.
Summer and winter
The sleeping bag is universal for your child. The temperature of the environment determines which sleeping bag you should use for your child. The recommended range is between 16 and 18 degrees. You will often find this value given in TOG. This is a unit of measurement that reflects the thermal resistance of textiles. The higher the value, the warmer the sleeping bag. In winter, when the temperature in your child's room is between 15 and 20 degrees (2.5 TOG), your child sleeps best in a lined winter sleeping bag. This is often equipped with a warm teddy lining and maintains a cosy comfort temperature. At temperatures of 18 to 24° C (1.0 TOG) a light sleeping bag is recommended. This only has a light lining. From a temperature of 22° degrees (0.5 TOG), use a summer sleeping bag. The summer sleeping bag is unlined and made of breathable material such as light cotton. An all-season sleeping bag, as the name suggests, can be used all year round. It cools in summer and warms in winter. However, if the temperature varies greatly, a summer or winter sleeping bag should still be used. The temperature is crucial for your child's well-being.
With or without sleeves - what's underneath
Sleeping bags are available with or without sleeves. A sleeping bag without sleeves can be used more individually, as you decide what your child wears under the sleeping bag depending on the temperature. If it is warmer, it can be a short-sleeved body. If the temperature tends to go down, you can put a long-sleeved bodysuit or even a jumper on your baby. A sleeping bag with sleeves has the advantage, of course, that the sleeping bag definitely cannot slip. And it keeps constantly warm. As parents, you have the best feeling for what is good for your child. Pay attention to this if the child sweats excessively or freezes. With a sleeping bag, you can react individually to your child's needs.
The right fabric and closure
The exchange of moisture is very important. Therefore, when buying a sleeping bag, you should attach importance to a breathable fabric. Cotton is the easiest to care for and can best withstand saliva and sweat. Either the sleeping bag is equipped with zippers or a velcro fastener. It is important to make sure that your child cannot open the zippers themselves. In most cases, zips are protected so that they cannot injure the child.
The agony of choice
You can choose the design and material from countless suppliers. Among the best known are Träumeland, Alvi, Sterntaler and Odenwälder. These brands stand for high quality and good workmanship free of harmful substances.
A sleeping bag not only for the baby
The sleeping bag is not only for the baby. Toddlers also benefit from its comfort and safety. Your child can sleep with a sleeping bag without hesitation up to the age of three or four. Not only the children benefit from it, but you as a parent as well. With a sleeping bag, your child is always safely covered and does not freeze at night. This saves you having to get up and tuck them in. So you and your child are happy and sleep soundly.