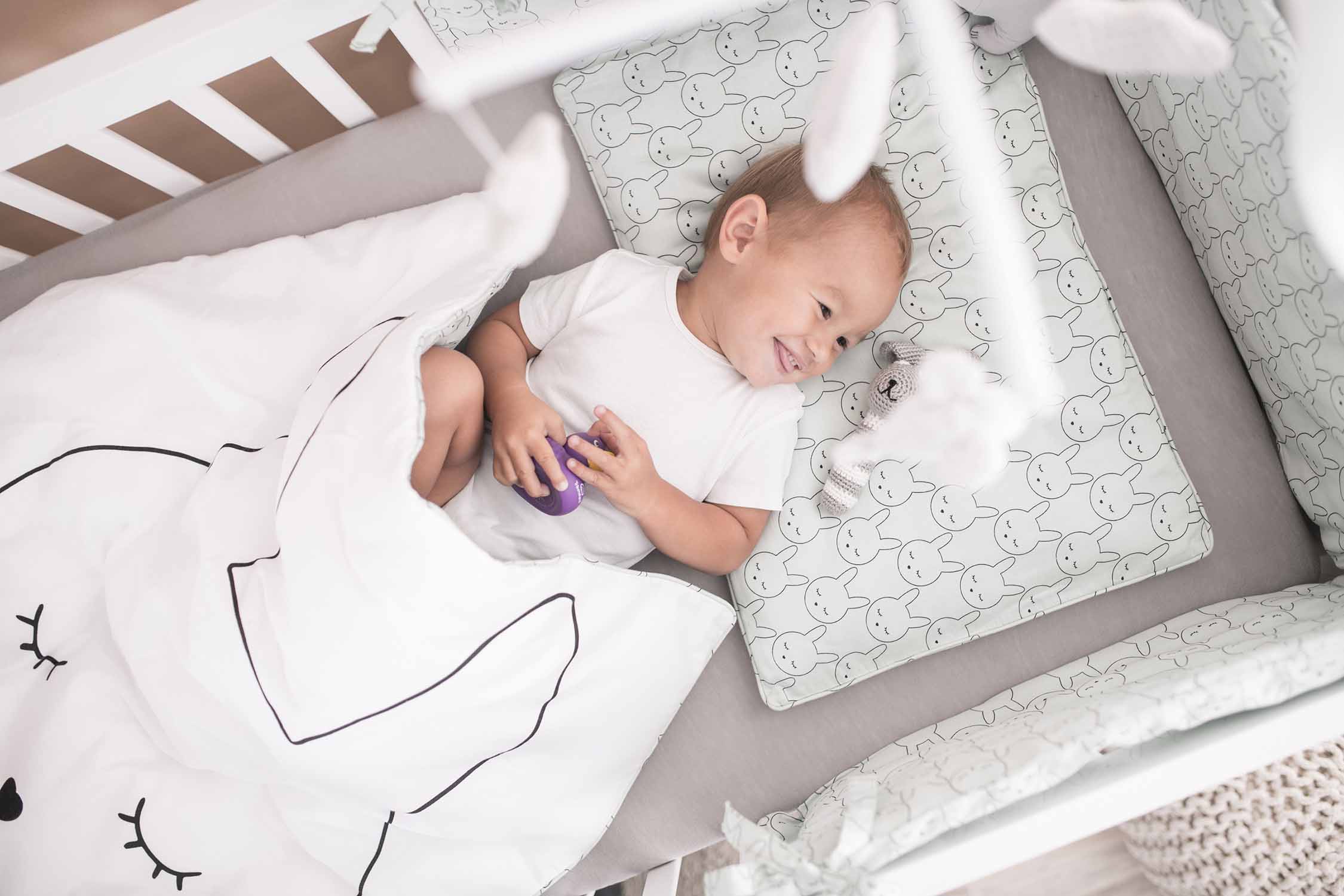 How to keep your child safe and sound asleep
Nests offer calmer nights, faster sleep and protection for babies during sleep. These items prevent agile children from bumping their heads at the head end during the night. With such head protection, your little one's limbs do not get caught between the bars when he or she moves during sleep. It also gives your baby a feeling of security and helps him or her to fall asleep more quickly because a nest keeps external stimuli away from him or her. Sleeping with an open window is healthy. A nest ensures that any draughts cannot harm your baby. If the protection at the head end and the sides is not enough for your darling, then use an all-round protection that covers all four sides of the bed. You can choose between different heights, shapes and colours of the surrounds. You are guaranteed to discover a nest or an all-round protection in this category that harmonises perfectly with your existing nursery furnishings or children's bed linen. When buying the products, be sure to check that the materials are washable, made without harmful substances and well-made.
Safety and peaceful nights when travelling
If your child likes to sleep with the grandparents or if you are often travelling, a travel bed or a cot is not always necessary. Even for older children who sleep restlessly at night, bed rails are a good solution to prevent them from falling out of bed. Many manufacturers offer these in different types and sizes. In this section, you can discover products that are foldable and lightweight, which makes them easy to carry in a bag, or bed rails that are adjustable in length and height. For fastening, some articles are simply pushed between the slatted frame and the cot mattress, others are additionally secured with straps or velcro straps. For easy entry and exit, many of these grids are foldable. Different materials such as wood, plastic or textile are available. High quality products without harmful ingredients such as BPA and DEHP are the perfect choice.
But maybe the inflatable bed rail is exactly what you are looking for. It inflates quickly with a pump, which is included. For safe nights, place it on the mattress under the bed sheet. No slipping is possible thanks to special adhesive strips. Your child from about two years of age will feel comfortable and safe with this "co-sleeper". This bed surround is also a useful travel companion thanks to its low weight of 278 grams. Decide which fall-out protection is best for your purposes.
Mosquito nets for the cot
You know it, the annoying buzzing of mosquitoes. At night, the little bloodsuckers buzz around your head and rob you of your sleep. Your little one will be spared these noises and itchy mosquito bites if you stretch a mosquito net over his or her cot. Such a net is also useful for outdoor naps, as there are even more biting and sucking insects flying around outside and you cannot always keep your child in sight. Insect nets are especially important for people who are allergic to wasps or bees. They can be used flexibly due to their variable sizes and numerous fastening options as well as their light and thin material. The nets provide your child with optimal safety from all creepy-crawlies and flying pests.