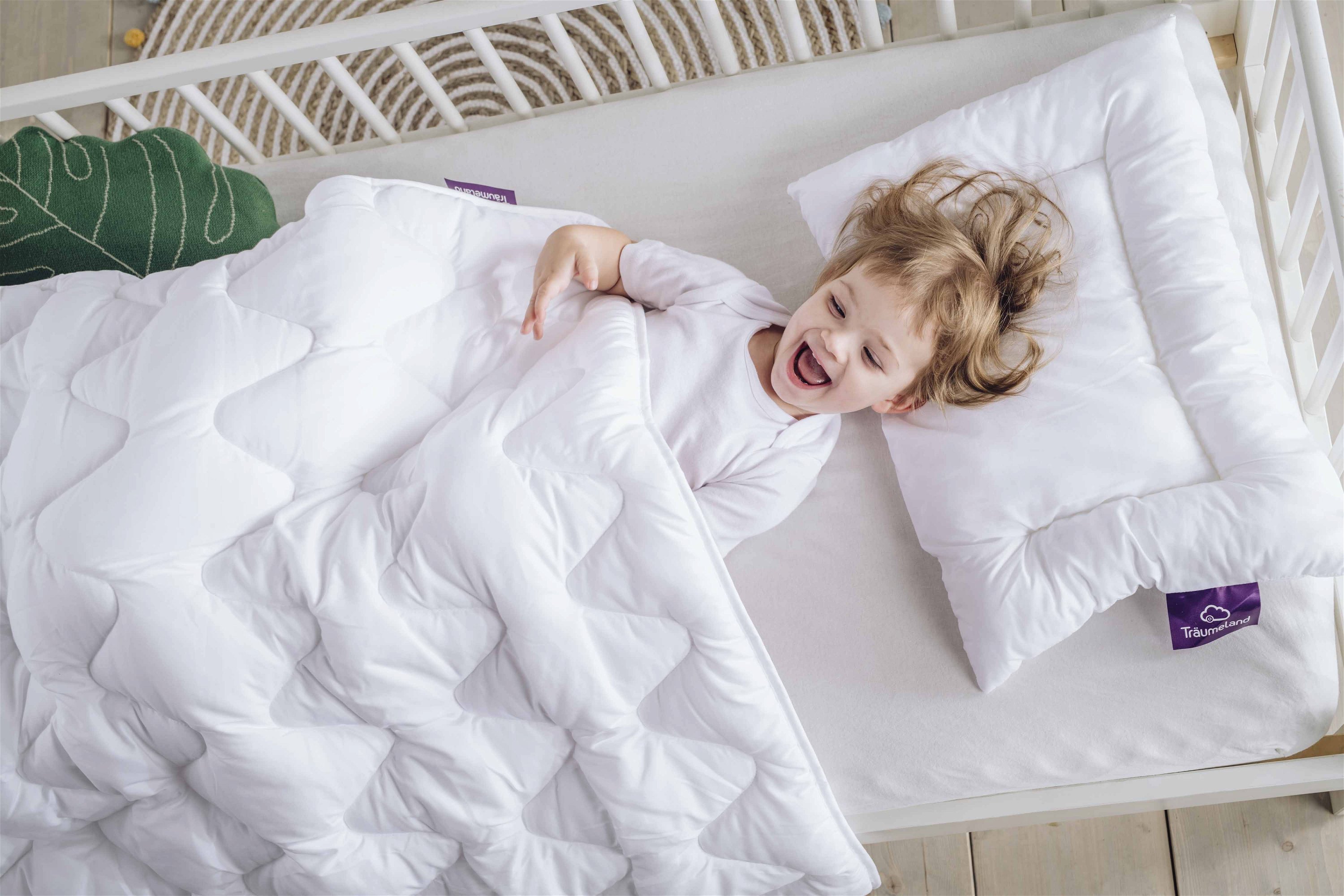 Bed equipment for children and babies
A good night's sleep is important and the right equipment makes it restful for both child and parents. Babies in particular lie in bed, in the cradle or in the pram practically all day. A good mattress is just as important as a child-friendly bed set. The practical sets are available in different sizes and are suitable for cradles or baby beds. Perfectly coordinated, the bed set is also a visual highlight in the nursery. With the classic baby bed, you also have various options and can use it for a long time. The bed set itself usually consists of a canopy, bed linen and nest and guarantees a comfortable sleep. Especially the nest ensures that a baby can sleep well protected from draughts. The sets are available in many designs and versions and, with the matching canopy, become a feel-good bed for the little ones.
Bed linen, pillows and blankets
In addition to pillows and blankets, the perfect bedding also includes a duvet and fitted sheets. You can't have enough of these in your wardrobe, because it's easy for a baby to have a mishap. Often the entire bed set has to be changed and you can hardly keep up with the washing. Fitted sheets are available in many different sizes and are needed for practically every base and in the pram. Warm blankets complete the first set and are good for little children all day long. Wrapped up warm or used as a cover on the play blanket, they are very flexible and universal.
The duvet is also available in many designs and sizes. For the filling, besides Microfibres and Tencel, bamboo fibres or down are also used for the filling. The material also depends on the season and so it is advisable to buy two different duvets. However, almost all fibres are very absorbent and breathable and are characterised by their light weight. A practical sleeping bag is also very suitable for babies and toddlers. Then the little ones can't kick about freely and are always wrapped up nice and warm.
Curtain rods, canopy and accessories
Practical accessories such as curtain rods and canopies turn the cot into a cosy nest for the little ones. Whether subtle colours, lace or colourful designs, you are practically spoilt for choice. Beautiful motifs and materials give every cot a very special flair and put the nursery in the right light. The canopy also protects the toddler from draughts and light and lets him sleep protected. With the matching accessories such as curtain rods and fastening material, practically every cot can be turned into a cosy place.