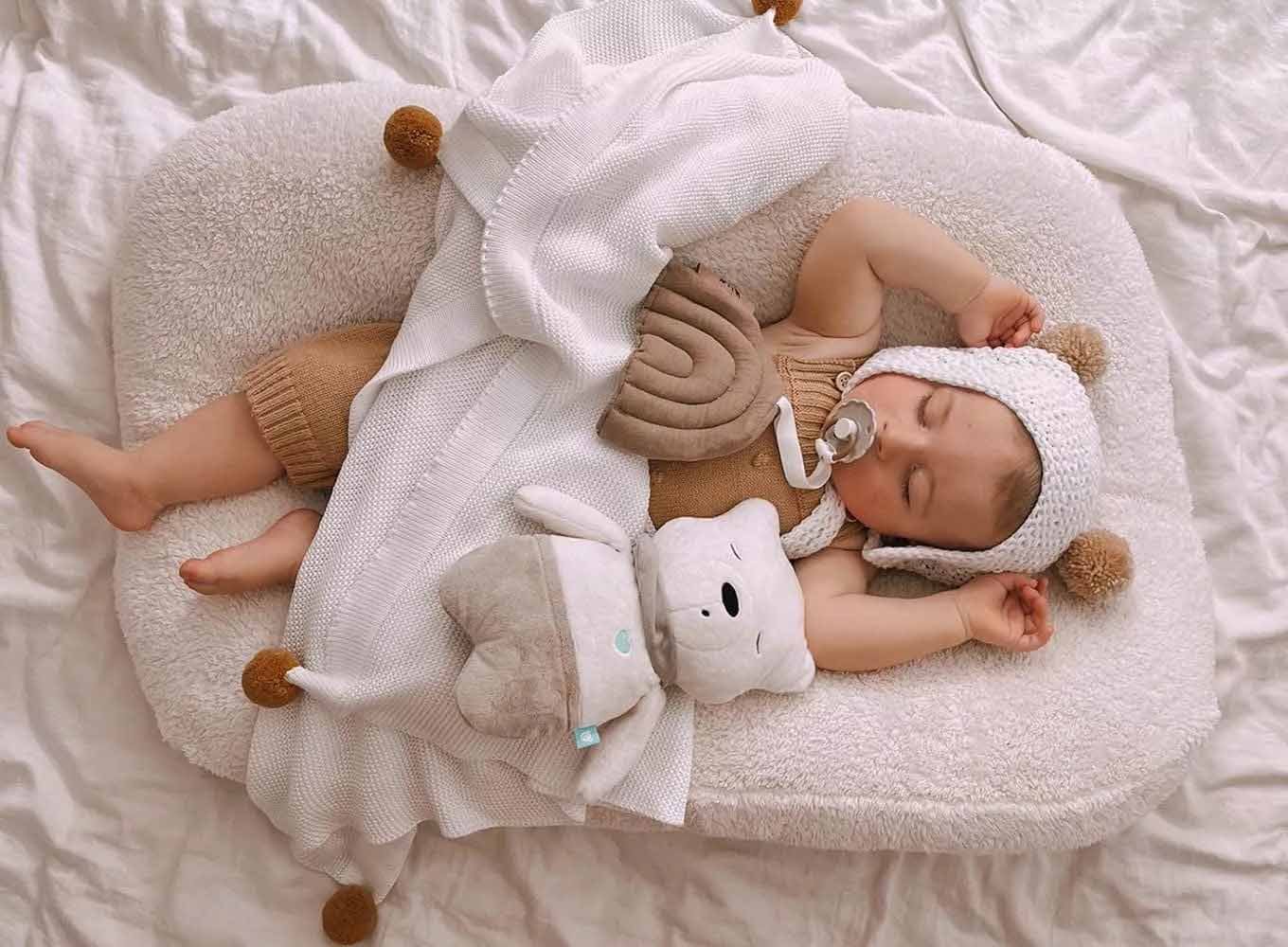 Sleep aids and nightlights for your baby
In addition to soft pillows and pretty children's bed linen, the many little accessories also ensure a pleasant night's sleep. And because the little ones often find it particularly difficult to fall asleep, you have to reach for the practical sleep aids. Whether it's a cute toy, a night light or a music box, with little rituals when going to bed, even the smallest ones quickly find their sleeping rhythm. Cuddly toys and night lights take away the little ones' fear of the dark and of being alone and replace the closeness of their parents. With nice rituals and a beloved doll or stuffed animal, children quickly realise that they are not alone. Cuddly toys are certainly the most popular aids to falling asleep, and hardly any toddlers go to bed without them. Soft and warm, they convey a feeling of closeness and give the child security and warmth.

A nightlight is another practical sleep aid for parents and children. The pretty night lights emit a pleasant and calming light and are available both for the socket and with a rechargeable battery. In our online shop, we have a large selection of colourful night lights that are sure to appeal to your child. With a mobile small night light, the little ones can also get up alone at night without having to be afraid of the dark. Especially the night lights with projectors conjure up pretty motifs on the wall in the dark. With their soothing patterns, they transform the children's room into a magical starry world and even switch themselves off after a certain time. Night lights with practical LED lamps also save electricity.
Soft music for peaceful nights
The classic music box is once again a popular aid to falling asleep. Soft music calms the little ones and often even the cuddly toy is equipped with a music box. With a cuddly mouse in their arms and soft music, every child is sure to fall asleep reassured. The small cuddly toys with function are also well suited for on the go, in the pram or in the car.

With the start of kindergarten, the time has usually come for a separate alarm clock. With your own colourful children's alarm clock, getting up is only half as hard and the day can begin in a relaxed way. Even if they can't read the time properly yet, the little ones know when their colourful alarm clock rings. There is a nice selection of designs and ringtones in our online shop, so that the right alarm clock can be found for every child. Whether it's a classic alarm clock ringing, pretty music or animal voices, the alarm clocks are available in many variations. Meanwhile, special alarm clocks for toddlers are also available, which teach even the very youngest to sleep and get up with their pictorial representations.