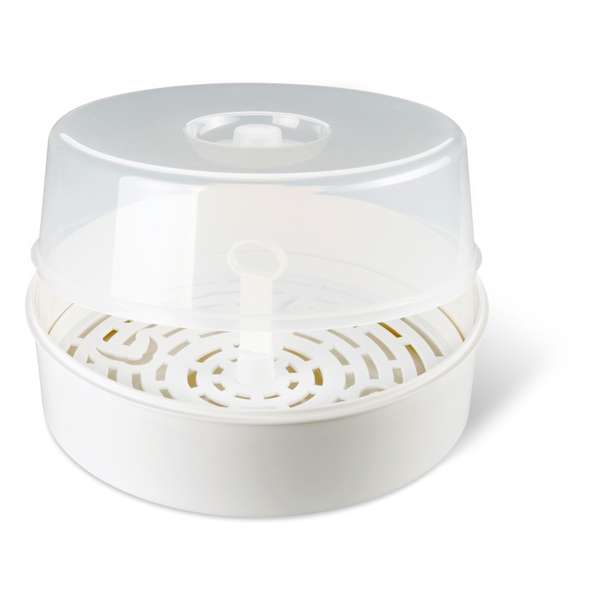 14.00
| was

 20.90

(33.01% saved)
Product information "reer Microwaves Vapostar"
Remove germs and bacteria without chemical additives simply with steam. The Vapostar is suitable for almost all microwave ovens.
Steam-based disinfection - without chemicals - fast, natural and reliableDisinfect baby bottles and accessories effectively and quickly without chemicals. The heat of the steam destroys pathogenic germs and household bacteria in a very short time and kills them reliably.
Large storage basket facilitates the disinfection of small parts and accessoriesThe removable storage basket makes it easy to disinfect small parts and accessories. Bottles, bottle tongs, soothers and teats can be stored safely and cleaned of germs and bacteria in no time.
Bonnet handle for safe openingA bonnet handle integrated in the lid protects against burns from hot steam and enables safe opening after the disinfection process.
Lid attachmentThe lid attachment is made of transparent and heat-resistant plastic.
Large storage basketThe large storage basket offers enough space for up to four bottles and accessories. The handle makes it easy to remove the basket and its contents. Special holding points keep baby bottles, bottle tongs, soothers and teats firmly in place.
The importance of disinfection and hygiene for your baby's healthAs parents, you want to protect your child from all bad experiences and ensure your baby's health. You should start here with sufficient hygiene when feeding. Household bacteria and microorganisms on breastfeeding and feeding equipment can quickly cause diarrhoea and stomach aches. Effective disinfection completely destroys all bacteria on the baby's cutlery or breastfeeding equipment. This standard method of disinfection by hot steam, proven in hospitals, brings clinical hygiene into your own home and protects the smallest ones in your household from damage to their health.
Manufacturer "reer"
Reer is a German company
Reer is a German company that specialises in low-priced and high-quality baby products. The assortment ranges from bottle warmers, warming boxes or bottle thermometers to stainless steel insulated bottles, changing table radiant heaters, baby monitors, bath thermometers, bath mats and bed guards.