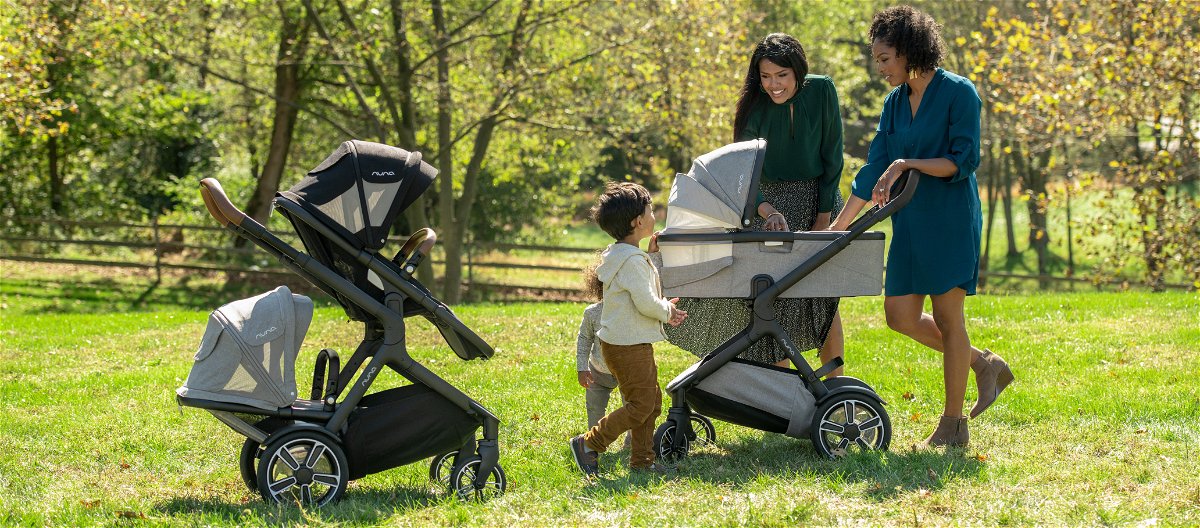 Finding the right pram!
Choosing a pram model is probably one of the most difficult tasks that expectant parents face. Not only do you have to find a pram with accessories tailored to your particular living situation, but also a reputable manufacturer and a pram that has performed well in pram tests. If you live in the city, parents on the go need a different pram than if you live in the country. Those who often travel by public transport need a different pram than those who transport the pram in the car or sporty parents who take their child jogging. The good news is: there is a suitable pram for every need, with or without accessories.
What kind of prams are there?
A baby carriage is used from birth onwards. This model consists of a carrycot in which the baby can lie. Only when the child is sitting independently should it switch to a pushchair or buggy. Some manufacturers offer the carrycot and sport seat as a pram set with accessories. The advantage is that the pram is used for longer. If you only buy a pram, you have to look for a model to follow. A pushchair is usually more comfortable than a buggy. This is due on the one hand to a comfortable sports seat and on the other hand to the sprung pram frame with a high-quality wheel. A buggy ABC Designwhich is used up to the age of three and a half or four years, is usually designed for urban environments. The stroller is manoeuvrable and folds up quickly. Some manufacturers, such as ABC, offer pushchairs as a travel system with the baby car seat for the car i-Size as an accessory for just a few CHF. You do not have to wake up the sleeping child in the infant carrier, but the infant carrier is completely attached to the pram frame. Prams for sporty parents are called Jogger City. With large spring-mounted wheels and padded seats, the child sits comfortably when jogging off-road. On-the-go buggies are very light and fold up small. Twins and siblings with a small age difference can be accommodated in a twin pram or sibling pram model.
When do you need to replace the pram?
Model first pram up to 9 months

Model pushchair and jogger, when the baby can already sit up

Model Baby Jogger Pram for sporty parents

Model Buggy light for travelling
What brands/manufacturers are there?
There are pram manufacturers from A to Z. At ABC Design (CHF 652), the traditional brand Chicco (CHF 339), Cybex (CHF 720) and Recaro (1000 CHF) you will find many pram models Duoset or Trioset offers consisting of a carrycot, car seat and buggy with lots of accessories. Prams for siblings and twins are available from the Phil & Teds brand (CHF 1000), TFK (CHF 960), iCandy (CHF 1580) or the Mountain brand for around CHF 1500. The Scandinavian manufacturer Stokke (CHF 979) stands for a purist design of its prams, which are also a travel system. A special feature of this model is the height-adjustable seat, which brings child and parents closer together. You can find trendy retro prams with the technical features and without harmful substances at Naturkind from CHF 1000. You can always combine a Britax Römer with a Britax Römer infant carrier (as at Maxi Cosi CHF 450 or CHF 704) as an accessory. You can find pram joggers at Phil & Ted's combi pram, sibling stroller or sibling stroller with carrycot for as little as CHF 999, without having to compromise on quality. Baby Jogger manufactures sporty prams. Among the top-selling baby prams are the manufacturers Joie Baby for buggies (CHF 89.90), Joie (CHF 269) and Mountain Buggy (CHF 629) for prams, Baby Plus (CHF 299), Stokke (CHF 890), Nuna pram (CHF 1419) and Chicco (CHF 699) for the combination prams and Baby Plus (CHF 299), Chicco (CHF 559) for the trio prams.
What are the individual differences between the prams?
Wheel: Pushchair wheels are divided into wheels made of EVA plastic, hard rubber and a wheel with pneumatic tyres. Air-filled wheels, like those of a bicycle, offer the greatest driving comfort on unpaved surfaces, in the forest and at kerbs. The disadvantage is that you have to supplement missing air in the wheel. Air wheels are not puncture-proof. Wheels made of hard rubber, together with suspension, provide good riding comfort. They are puncture-proof. Wheels made of EVA cost less CHF and are used on a city buggy. They are suitable for asphalt paths and are lightweight. The larger the wheel, the more comfortable the buggy is to drive. Lockable swivel wheels at the front of the buggy make steering easier.
Suspension: Here the pram manufacturers pursue different concepts from single-wheel suspension on the pram to fully suspended frames. Retro prams have the softest suspension, as the pram models also have large wheels in addition to the suspension.
Sport seat/seat cover: The sport seat with a fixed seat and fixed adjustable backrest is always more comfortable than a fabric seat cover in a buggy. Nevertheless, a seat cover is also justified when the buggy needs to be folded quickly, for example.
Accessories: The price-performance ratio CHF of a pushchair is decided by the accessories. Do you have to buy everything separately or are a changing bag, rain cover, UV protection and cup holder already included as accessories in the pram set, along with the infant carrier, carrycot and sport seat?