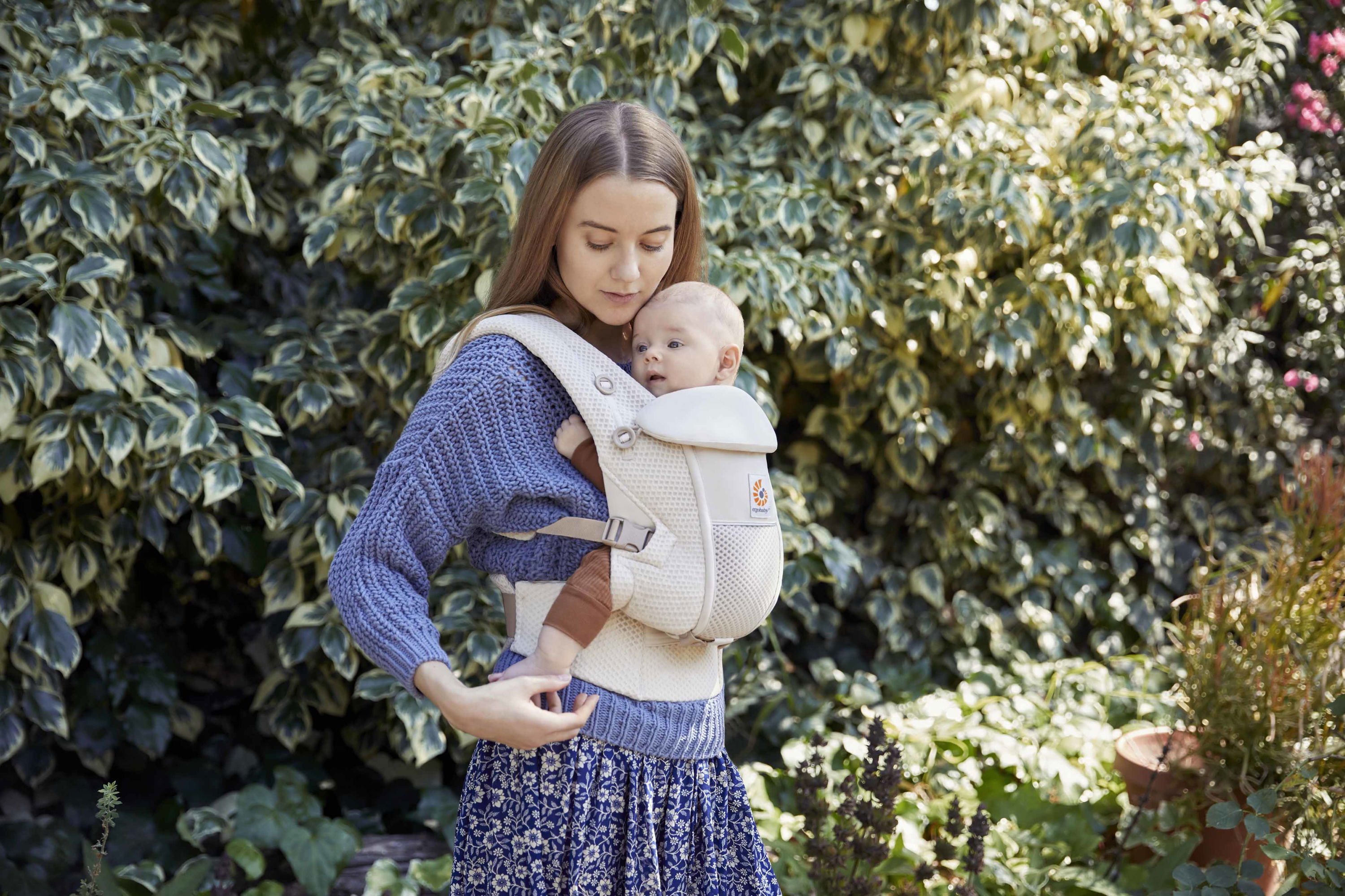 Slings, baby carriers and back carriers
Transport systems for carrying your child on your body are available in various designs. It all depends on the occasion and purpose for which the carrier is to serve. Does the carrier have to be suitable for hiking, only serve for short walks or are you looking for a system with which you can have your baby with you all day? All carriers have one advantage: no matter where you are travelling with your child, you always have both hands free. Even relaxed sleeping is possible in all carrying variants. The movements your little one makes while being carried also train their sense of balance. As the little hands reach for everything that is nearby, the sense of touch is also further developed. When using baby carriers, slings or baby slings, your little one is always "close to the action" and gathers many new impressions day after day.
Babywearing: calming effect through closeness to the body
Being close to the body is important. Many parents swear by baby slings for newborns because they can carry their little one around with them during all activities. The baby lies or sits comfortably and well protected in such a sling. The sling can be tied in such a way that your child can be carried either in front of the stomach, on the back or on the hip. Some of these flexible models are even suitable for swimming and are covered with a special UV coating so that your baby is protected from even the strongest sunlight.
The baby carriers on offer are thickly padded for your baby's comfort and the seat is reinforced. To make carrying your baby easier, the shoulder straps are soft and easily adjustable. Putting on the carrier is easy. Depending on the model, you can use the carrier on your stomach, on your back or on your hip. Most of them combine all carrying methods. When your child is sitting in the baby carrier, make sure that the baby is sitting in the tuck-and-spread position so that your child's hips and back are relieved. With a baby carrier, your baby has everything in view, sitting forward in it. The transport systems all grow with your child, so they can be used for a long time. The weight limits vary depending on the product. Useful accessories such as harness protectors, seat reducers, bibs, rain covers or winter covers are also available as required.
Back carriers for outdoor fans
If you like hiking in the mountains, it is practical to use a fixed back carrier for this purpose. Besides the positive effect that your baby sits there firmly, ergonomically and securely, they offer plenty of storage space for things you need on the way. Easily and quickly adjustable, padded shoulder straps ensure that mum and dad can easily take turns carrying. In wind and weather, they are the ideal companion on your tours. Intriguing rain/sun canopies, keep strong sun and wetness away from your treasure. Robust feet allow the stretchers to stand securely during a rest. Thanks to the low weight of the aluminium frame, even mum can comfortably carry her little one on a long hike. Babies put everything in their mouths. When buying baby carriers, check that they are produced without harmful substances and that the covers are washable.