As Germany's oldest manufacturer of soothers
supplies NIP supplies quality products for clinics and consumers "Made in Germany" in over 35 countries worldwide. With its own research, development and production facilities at the Georgensgmünd site NIP 150 employees work daily to manufacture, improve and further develop products of the highest quality. For decades NIP as Nürnberg Gummi Babyartikel GmbH & Co. KG mainly produced for well-known brands, now all this experience has been put into the brand NIP.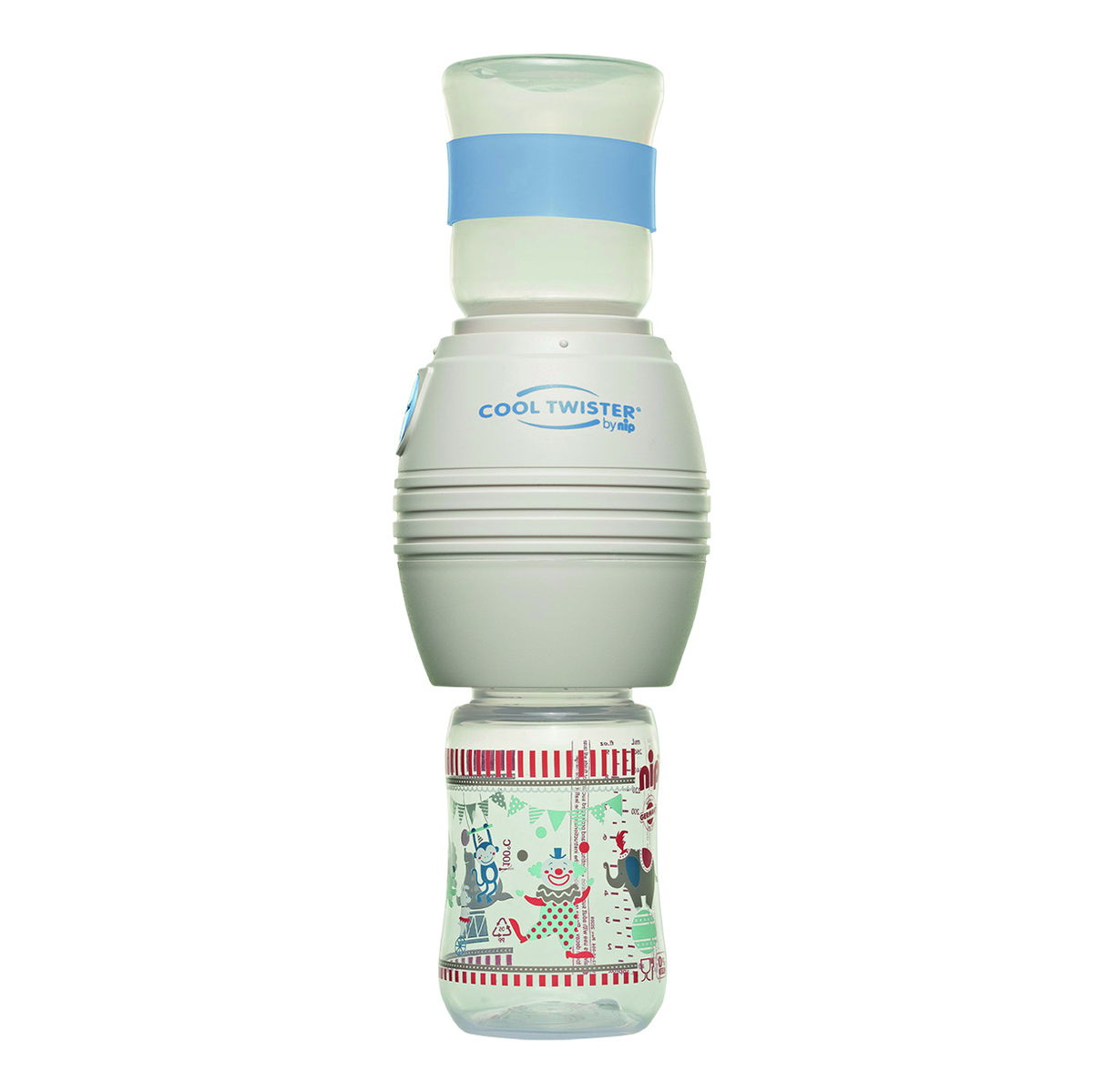 NIP Cool Twister
The Cool Twister from nip is easy to use and does not require any electricity. With the Cool Twister, perfectly tempered bottle water can be prepared in no time at all. The boiling water is cooled down from 100°C to an adjustable temperature between 40°C and 60°C within just 80 seconds. It works on the principle of heat exchange. The aluminium spiral inside cools the water in the heat sink. As soon as the hot water for the bottle runs through the spiral, it is cooled down to drinking temperaturePlace your Cool Twister filled with water in the refrigerator before use. For best results, leave the Cool Twist in the fridge for at least 2 hours before preparing the bottle. How to use: Step 1: Freshly boil water and fill into measuring vials. Step 2: Sweep Cool Twister and screw onto measuring vial. Step 3: Turn Cool Twister upside down. The water automatically runs through the cooling spiral of the Cool Twister and is cooled down. Features: cools boiling water to 40, 50, 60 or 70°C in 80 seconds with temperature precision works with warm water alone, very easy and without electricity is light, handy and easy to clean suitable for all common baby bottles such as Avent (except Tommee Tippee and Nuk Nature Sense) ideal for on the go recommended by midwives BPA free Why is the right temperature so important?The powdered food is "set" by the respective manufacturers to certain mixing temperatures. Only at these temperatures is it guaranteed that the powder dissolves optimally and has the maximum nutritional value for your baby. If the temperature is too low, lumps can form and if the temperature is too high, important ingredients such as proteins, probiotic components and vitamins can be destroyed. The food thus loses nutritional value and this can lead to dangerous deficiency symptoms.
 25.00 | was

 35.90

(30.36% saved)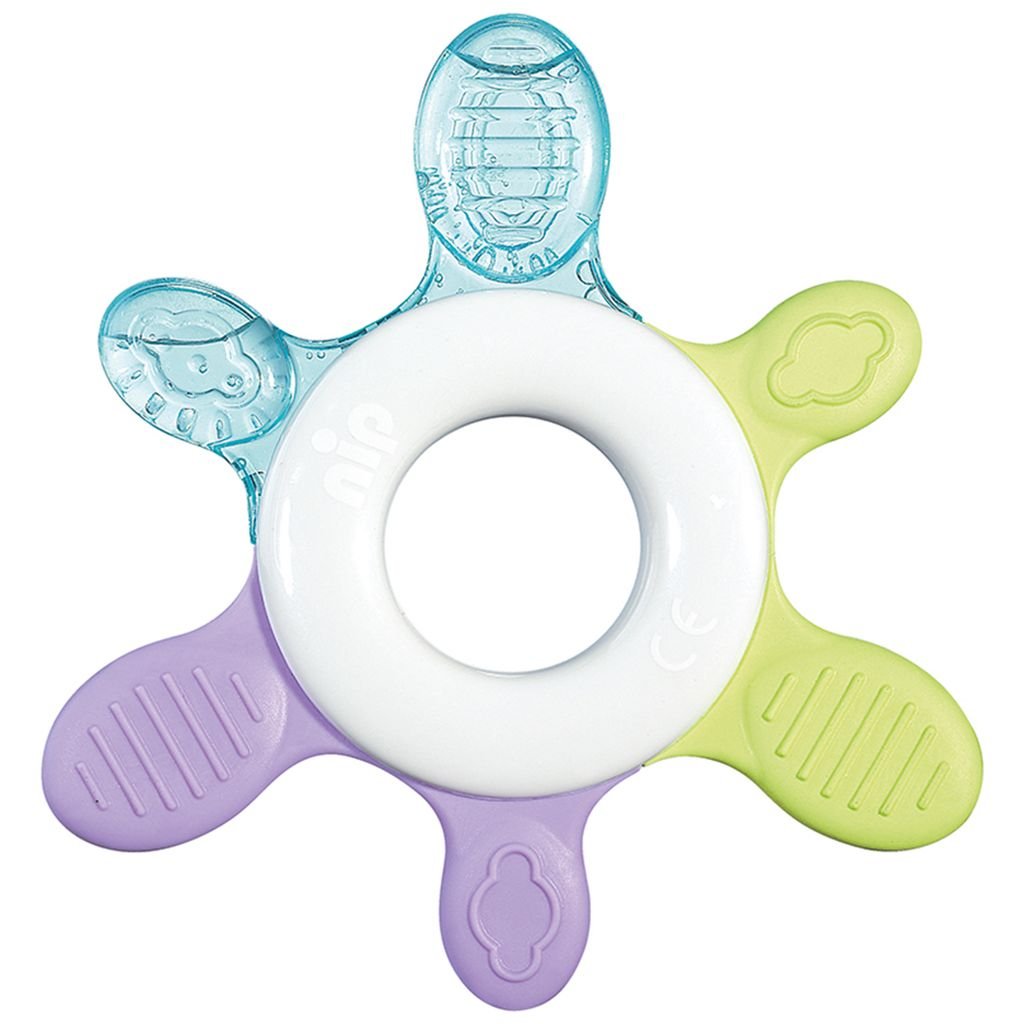 NIP cooling bite ring
When the little darling has problems with the eruption of the first little teeth, he expresses this with many painful tears. Before the parents are completely distraught, a teething ring brings relief to all concerned. Different textures and shapes are of great advantage in such a help. The NIP cooling bite ring not only has an ergonomic shape that is easy for small hands to grasp, it also impresses with its four surface textures and soothing coolness. Children explore their environment by seeing, hearing, touching and "putting it in their mouth". If the gums itch or hurt when the milk teeth erupt, the six different cones gently massage the jaw all the way to the molars. Four different soft cones made of BPA-, phthalate- and PVC-free material are evenly arranged around the ring. In addition, there are two cones filled with distilled water, which have a particularly soothing effect in the mouth after some time in the refrigerator. Biting and chewing on the six elements stimulates the flow of saliva and promotes blood circulation to the gums. What looks like a first toy has a lot of practical use. The carefree material of the NIP cooling teething ring is ready for use again at any time after a light cleaning. Features of the NIP cooling teething ring: Different structures to chew on Relieves teething pain Can also be cooled in the fridge Can be used from 3 months ergonomically shaped massaging and cooling BPA, phthalate and PVC free product dimensions: 10 x 10 cm easy to clean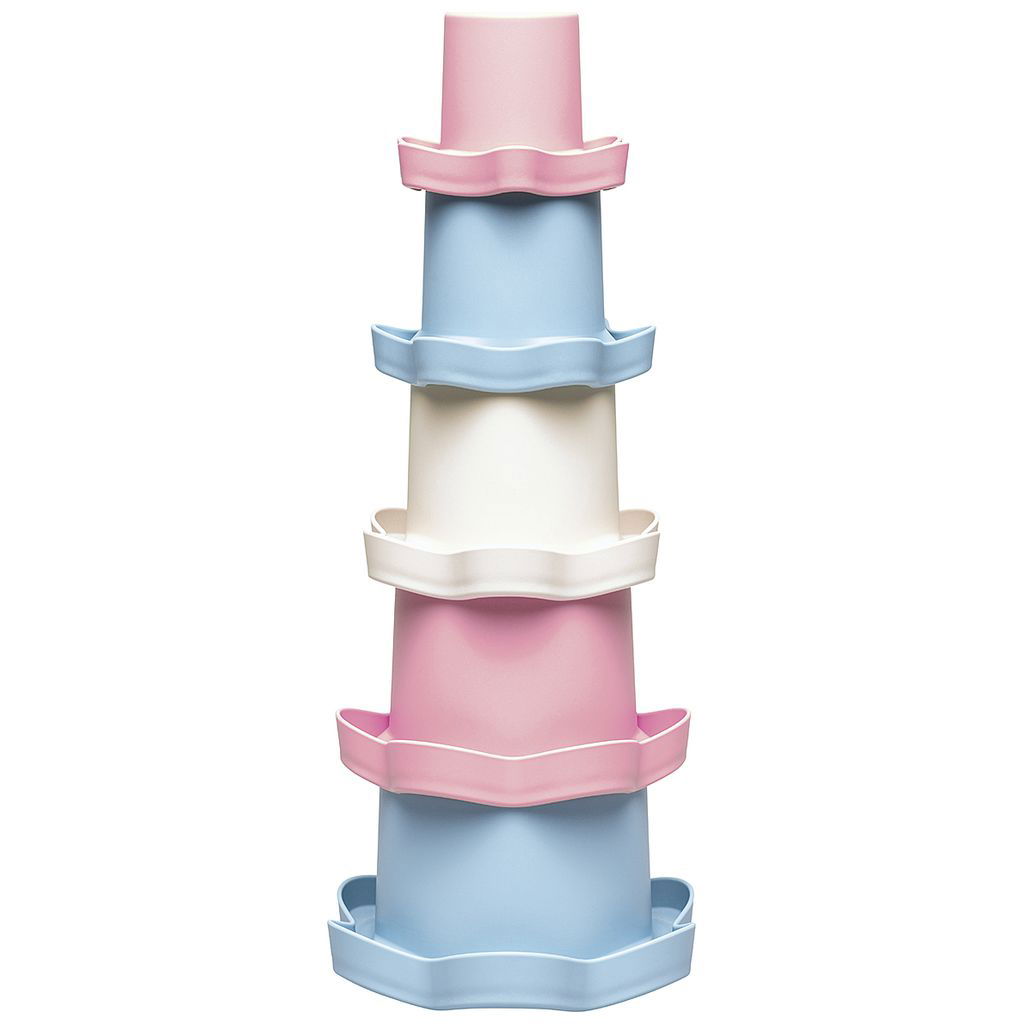 NIP Stack of game cups
The five NIP stacking cups are made from over 90 % renewable raw materials and do not use palm oil. Thanks to the flower-shaped, colourful stacking cups, toddlers can make their first experiences with different shapes. The colourful NIP stacking cups can be used to build a tower with a height of approx. 30 cm. Stacking cups develops the child's gross motor skills and hand-eye coordination. The numbering and the holes in equal numbers on the underside of the stacking cups stimulate the youngsters in a playful way for their first counting. Of course, it is also possible to take the stacking cups into the bathtub or to use them as moulds in the sandbox. The NIP stacking cups are completely free of harmful substances such as BPA, PVC & melamine and other harmful ingredients. They are well suited for ages 6 months and up. The sustainable green packaging is harmless to the environment as the paper is made from >90% recycled cardboard. Features NIP Stacking play cups sustainable baby toys from 6 months stackable on top of and inside each other 5-piece also suitable for water free of harmful substances Made in Germany