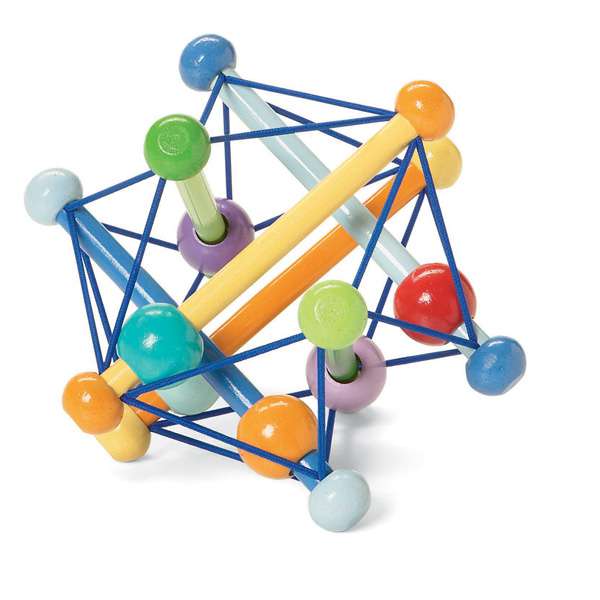 24.30
| was

 29.90

(18.73% saved)
Product information "Manhattan Toy Skwisch Colour Burst Griffin"
They can't speak properly yet, but they already have one thing in common: babies love Skwish(TM). This is not a secret scientific language code in baby babble. No, it is a unique toy that playfully encourages and challenges babies in their development. With a diameter of approx. 15 cm, it is ideally suited for babies and toddlers from 0 to 24 months.The versatile structure made of handy wooden rods, taut rubber bands and smooth balls can be squeezed and deformed in any way and yet immediately returns to its original shape. The wooden balls glide back and forth and make soft rattling sounds. Skwish serves the little ones both as a ball and as a teething ring. Parents, on the other hand, like the clear design and the environmentally friendly processing from the trunk of the rubber tree, which guarantees the necessary safety. The medical world is also convinced of the therapeutic qualities and uses Skwish, among other things, in the treatment of severely or visually impaired patients.
Skwish is available in three versions: Skwish Classic, Skwish Colour Burst and Skwish Natural invites the little ones with its cheerful variety to press it, shake it, feel balls, ribbons and bars and thus playfully train motor skills, haptics and acoustics. The innovative baby learning toy comes from the toy forge of Manhattan Toy Europe Ltd, with distribution in Switzerland by Urban Trading GmbH (Early Rider). The toy, which is becoming increasingly popular in this country, has already won several prestigious awards in the USA and England for innovative design and outstanding play qualities, such as the "Best Toy of the Year".
Manufacturer "Manhattan Toy"
Manhattan Toy makes rattles, mirrors, squeakers and crackling papers.
These are all great discovery toys for the little ones. With the graspers, discovery ball and cuddle cloths, your little ones are well equipped. They actively learn new sounds, shapes and colours. It doesn't matter whether they are made of wood or fabric, their little hands simply have to be actively occupied.
---
Tolles Spielzeug mit vielen bu...
Tolles Spielzeug mit vielen bunten Farben. Unsere Tochter liebt es.
Hochwertige Verarbeitung und s...
Hochwertige Verarbeitung und sehr interessant für unsere kleine Maus!
Mein Baby liebt es obwohl manc...
Mein Baby liebt es obwohl manchmal eine Kugel (jenachdem wie er es hält) ins Auge drückt.