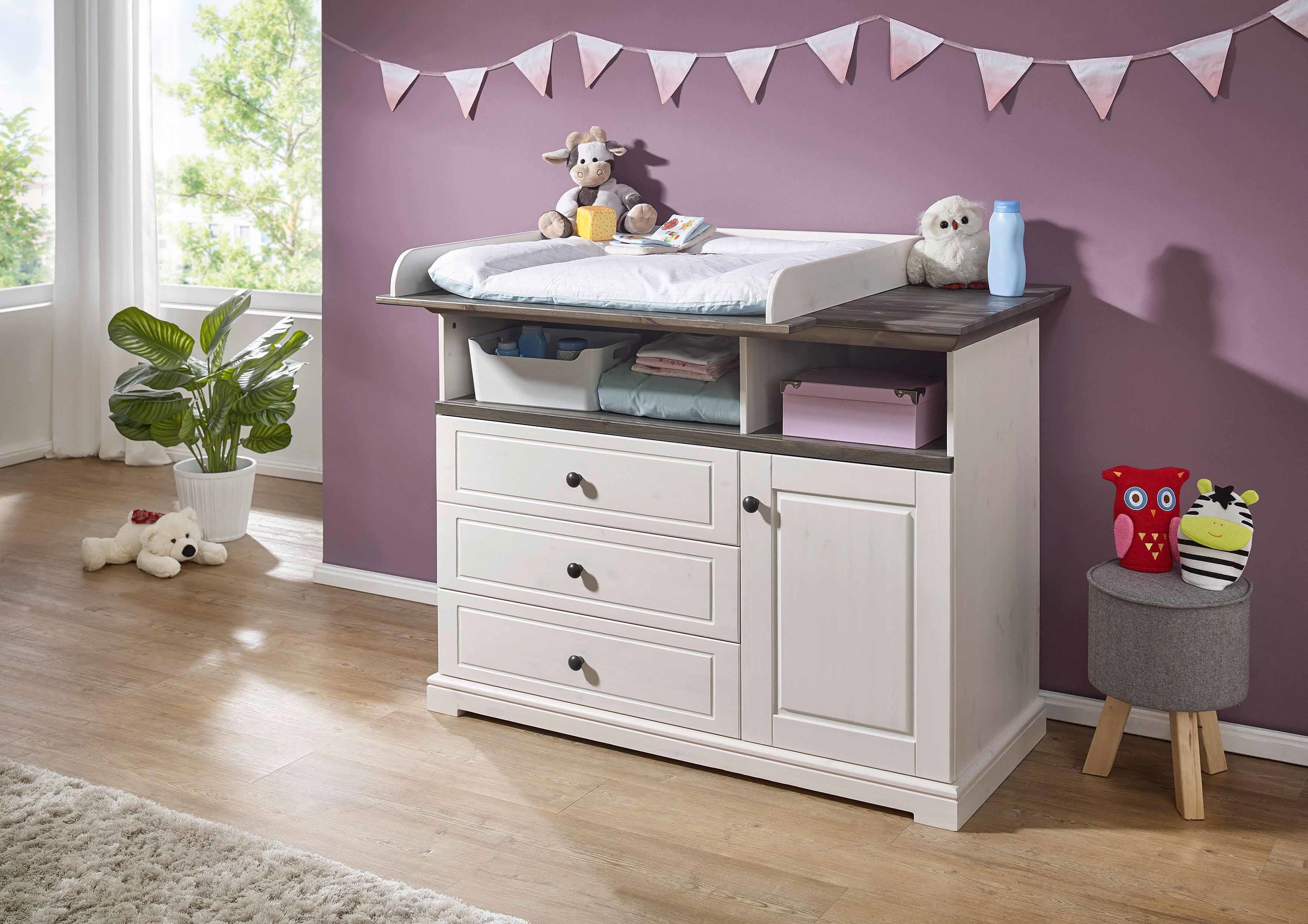 Furniture and furnishings for diapering the baby
For nappies and care of their offspring, parents need a nappy-changing unit or a nappy-changing combination. These pieces of furniture consist of a support surface and are usually equipped with practical compartments or drawers. These can be used to store nappies, panties and various care products. Changing chests are often a component of complete children's rooms. Parents can buy them as a detail of the baby's room or order them as individual pieces of furniture.
Different changing combinations and furniture
In our shop, we offer young parents a large selection of beautiful and practical furnishings for changing
the baby. The products are from well-known manufacturers such as Stokke, Schardt, Ossan, Geuther and Paidi Kinderwelten. From the Eco Stripe children's room programme by the manufacturer Schardt comes, for example, a decorative changing unit that is equipped with a spacious lying surface as well as several drawers and open compartments. All that needs to be ordered for the pad is a soft pad. We offer many cushions with beautiful decors in our shop. The changing unit in fresh white can be converted into a normal chest of drawers once the baby has outgrown changing.

If you are looking for a foldable and therefore portable changing unit, you should take a look at the changing unit combination in grey from the manufacturer fillikid. The product can be quickly folded and unfolded by means of a folding mechanism. When not in use, it can be easily stored in the corner of a room or even taken on a trip. When in use, the fllikid changing unit offers a soft reclining option as well as several large compartments. Various care utensils can be stored in the shelves.

Changing the baby is even more space-saving with the Easy changing table from the manufacturer Badabulle. The versatile wall-mounted changing table can be hung on the wall in the bathroom or living area. When not in use, the changing mat is simply folded onto the wall by means of a folding mechanism. The product is equipped with a wonderfully soft and comfortable changing mat as well as two attached storage baskets for cream and lotion. There is a practical mirror on the outside of the changing mat.
Versatile accessories for changing your little one
Of course, we offer a wide range of accessories for changing the baby. The head protection products from the manufacturer Paidi provide even more protection and comfort for the baby. The products, which are available in several colours, are simply attached to the rear changing barrier. Especially for bright children, this head protection is excellent. The head guard fits on all standard changing chests. If you already have a decorative chest of drawers and would like to convert it into a changing unit, you should opt for one of the changing tops from the manufacturer Paidi. The furniture-designed body is mounted on the existing chest of drawers. A soft pad completes the practical and inexpensive changing combination.
Large range of furnishings and equipment for your offspring
In addition to the described nappy-changing options, we offer a huge range of other products for mother and child in our shop. Our range includes furniture, cots, prams, baby carriers, bags, baby equipment, care products and toys. For mums-to-be, for example, we offer beautiful fashion, care products and practical breastfeeding accessories. A wide range of gifts for christenings and children's birthdays completes our extensive product range.