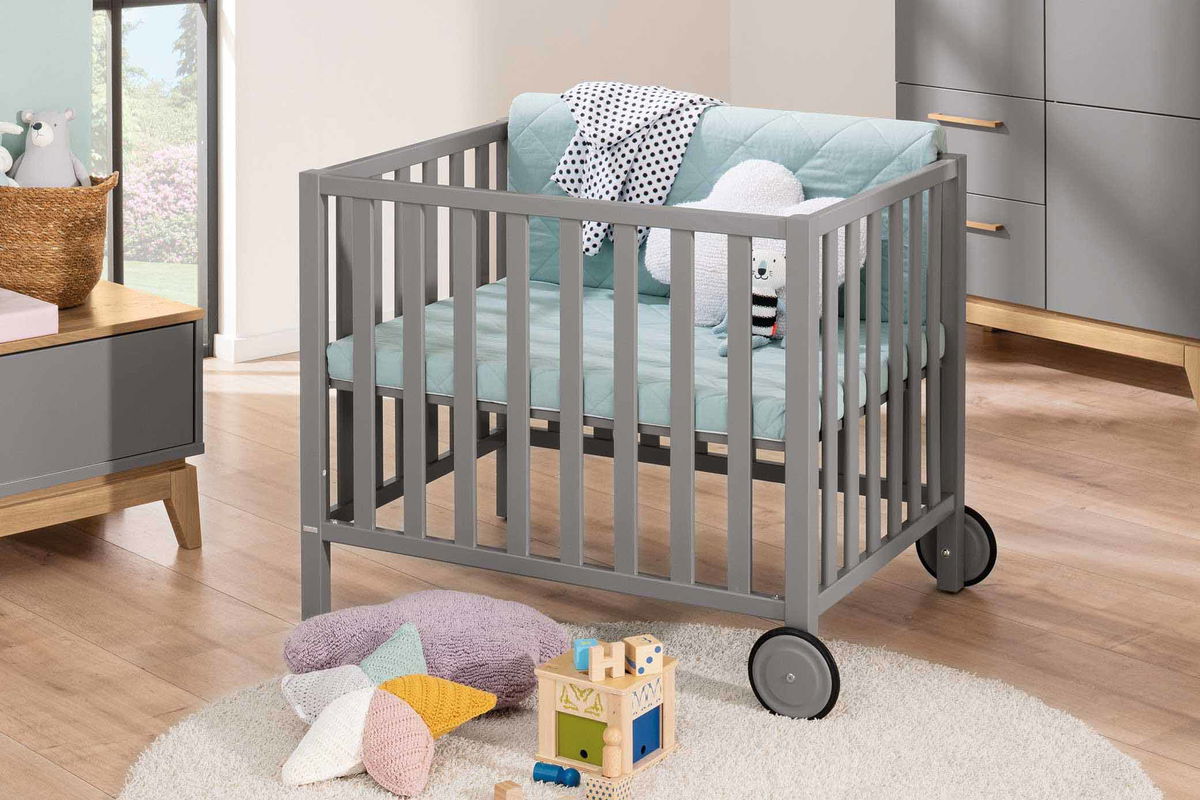 Furniture for the offspring to stay and play with
It is not always possible for young parents to take care of their offspring. Personal hygiene, the delivery of new furniture or a phone call to the in-laws - there are always situations in which it is important to put the baby down safely or simply let it play in peace for a while. In our shop we offer a large selection of playpens and various accessories for these moments.
Playpens from many well-known brands
Our playpens are from well-known manufacturers such as Osann, bisal, Geuther and babyplus. All products are made of high-quality materials, are stable and safe and meet the safety requirements placed on furniture.

Baby Plus Lucas Square from the manufacturer babyplus is a colourful and modern designed storage furniture that can be used as a travel cot at the same time. For transport in the car, the playpen is simply folded up. An interesting feature of this model is the wall design made of sturdy nylon. The material prevents the little ones from sticking their little hands through it, an important safety measure especially when there are dangerous radiators or furniture that can be tilted.

The Leela playpen from Geuther in the colour white has the most beautiful furniture design. The model has four lockable castors and can therefore always be rolled to wherever you are. The playpen is height adjustable in two positions. The product already has a padded support surface.

If, on the other hand, you prefer something more natural, the Belami model from the manufacturer Geuther could be just right for you. The high-quality playpen is made of the best wood and exudes a wonderfully natural atmosphere. The product can be adjusted in height up to three times. Of course, the Belami model also has four lockable castors and a softly upholstered base.

The Euro Parc model from Geuther is equipped with slip-on slats. The playpen in elegant colonial style can also be adjusted in height several times and stored folded up in a corner of the room when not in use.
Our extensive range of accessories for playpens
Our products in the furniture/staying category naturally include a wide range of accessories. We offer a wide selection of beautiful playpen inserts and mattresses. Flat or with raised edges at the head and sides, with small ties to secure the mattress or as a practical combination of playpen and sleeping mattress, our products are perfect for many purposes.

If you would like to equip an existing playpen with matching castors, we have a well-stocked selection of parquet and carpet castors. And for a height adjustment of the playpen, you can get the matching metal hooks from us. A wide range of spare parts rounds off our offer in the living/staying category.
Everything for the offspring and the new parents
Feel free to browse through our versatile range. We offer you simply everything you need for the time of pregnancy and the first months of your baby's life. Our range includes beds, changing units, wardrobes and shelves, prams and baby carriers, changing bags, sleeping bags, car seats, fashion and baby cosmetics, toys and much more. The expectant mother will find chic maternity wear, care products and breastfeeding products in our shop.