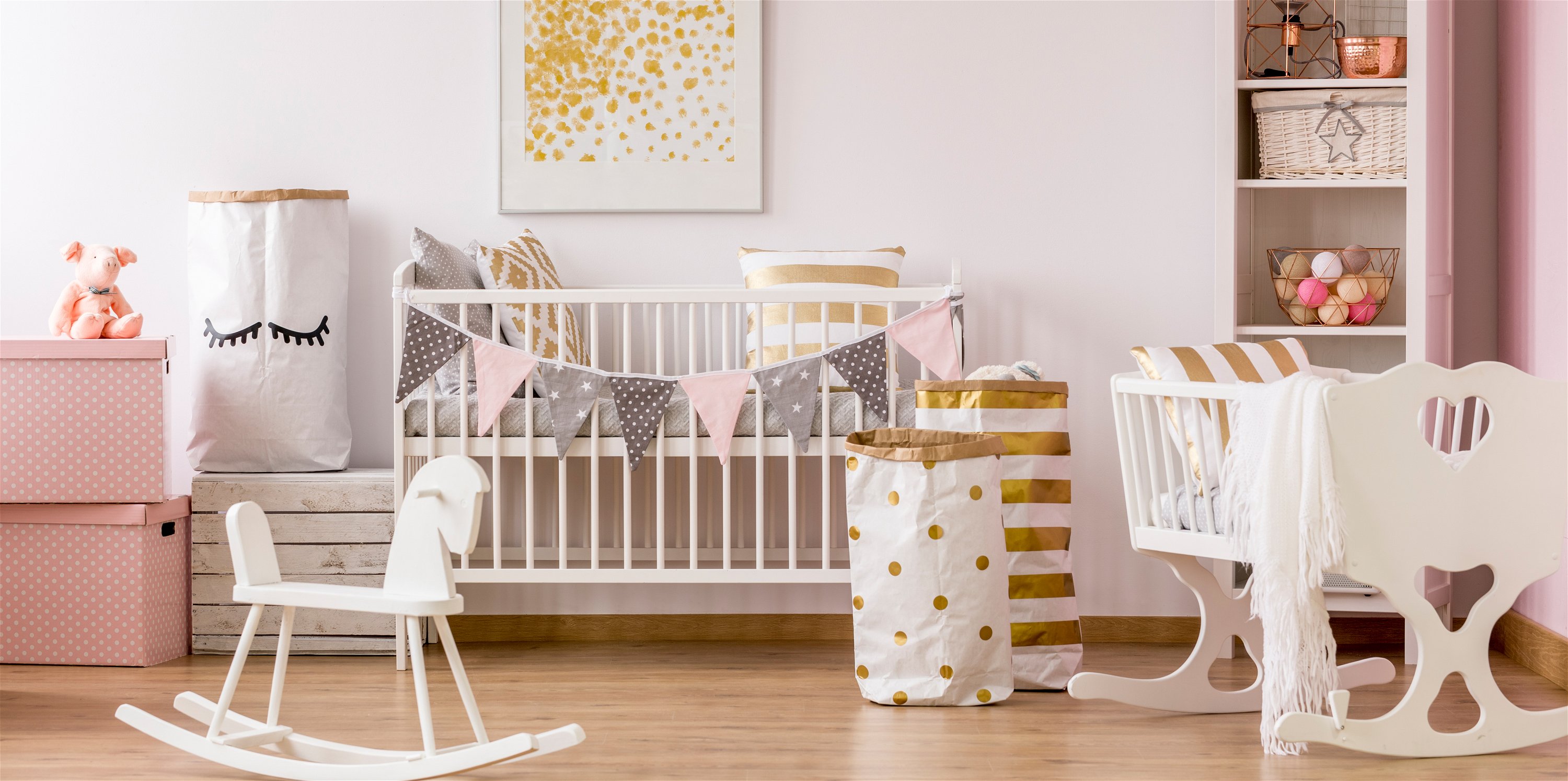 High-quality children's furniture for every need at 4mybaby
Probably the most beautiful thing for parents-to-be is to furnish the future children's room for their offspring. With us you can order children's furniture from well-known brands such as Geuther and Paidi and enjoy free delivery to your door. Of course, our services also include on-site assembly. At 4mybaby you will find a very large selection of children's furniture, such as beautiful cots, practical and spacious changing tables, large children's wardrobes and large playpens with matching mattresses for relaxing. Furthermore, you will also find romantic bassinets that will become a real eye-catcher in your home.
But also for children's rooms at school age you are on the right page with us. Whether you are looking for desks or beanbags, you are sure to find high-quality furniture at affordable prices in our product range.
Furnishing a modern nursery for babies
A modern nursery usually consists of a wardrobe, which you can purchase from us with 2, 3 or 4 doors. When looking at the wardrobe, always remember that your child will grow up over time and will therefore need more space. Choose a wardrobe accordingly and make full use of the space in your child's room. The nursery should also have a changing table with doors or drawers. To ensure that you can use the chosen changing unit after your child has outgrown the changing age, we recommend buying a chest of drawers with a removable changing unit.
The cot for your baby should definitely be height-adjustable so that the child cannot get out of bed on its own in the early years. If possible, the bed should be designed so that it can be used until adolescence. Most bassinets are equipped with castors, which are both nostalgic and practical. Recommended for daytime sleeping, it is perfect for your living room.
In the early days, an order bed is suitable at night, in addition to a cradle or the bassinet. This way your baby is very close to you and you can sleep peacefully in your bed. You can breastfeed your baby in a few simple steps. If you want to separate the order bed from your bed later, most beds have accessories that allow you to turn the extra bed into a separate cot.
The playpen is a safe place for your child to play or sleep. It is important that you use a high-quality playpen mattress for your baby. Some of our playpens even fold up to save space.
Choosing the right children's mattress is very important for your child's health, so it is very important for you to choose a high quality children's mattress that is breathable, anti-bacterial and anti-mite.
What do you need to consider when buying children's furniture?
When your child reaches their 3rd birthday, they will need child-sized tables and chairs. Choose a seating group or buy the table and chairs separately, whereby the seating group usually offers you a price advantage.
Important decision criteria are the height of the children's tables and chairs, the material, quality, stability, safety and harmful substances. A child-friendly design will be a reason for your offspring to be happy.
Wood is the material of choice for all children's furniture. Chairs and tables made of wood are very durable. A high-quality children's seat set made of wood has no or a low level of harmful substances. When painting high-quality children's furniture, harmless and environmentally friendly paints are used.
Ordering and delivery of your children's room
With us you will find all furniture for your children's room from infant age to kindergarten age. We deliver your ordered furniture within approx. 2 weeks if it is available. Of course, you can also make use of our assembly service.
We will be happy to advise you and look forward to helping you find what you are looking for in our shop.