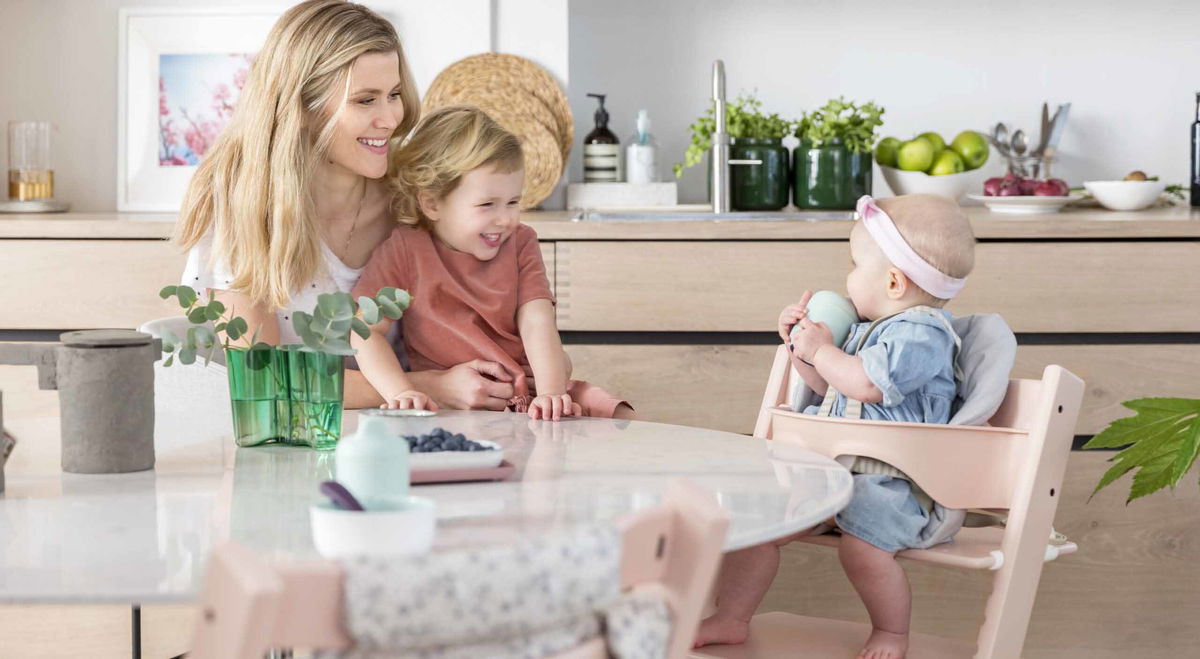 Learning to eat made easy: practical equipment for baby's first meals
Eating at the table brings many surprises and so the baby's first equipment is extended with bibs, placemats and practical seat cushions. Parents usually don't realise how fast little children grow. But already after a few months, the little ones can sit safely and try their first porridge. Whether it's a high chair or a sleeved bib, eating at the table becomes a lot easier for both child and parent with the right equipment. To make this fun, there are of course cute baby toys as a reward for the little ones.


High chairs with a modern design - the perfect equipment for the start of a meal
The classic high chair in a modern design also brings a lot of joy to the little ones. Sitting needs to be learned just as much as using a spoon, so the high chair should already have some important features. Height-adjustable and with the right seat cushion, it adapts to the child's height and even grows with the child for a few months. With a matching tray, the high chair quickly becomes a universal place for little rascals.

The high chairs for the little ones can be individually extended with seat cushions in different colours, which you can find in our category, and different motifs, which you can find in our nursery category. Of course, everything should be easy to clean and easy to care for, because porridge can easily end up next to the plate. The sturdy high chairs are usually made of wood or plastic and are therefore hard and not very comfortable. With a softly padded seat cushion, even the little ones will be comfortable and stay seated more calmly. The cushions are available in many variants to match the high chair and can be easily attached to it. Great bargains in our SALE are of course also available from us.


Practical little helpers: bibs, sleeve bibs and placemats for the little ones

You can never have enough bibs, and above all, they can be washed quickly and grow with your child for a while. Even when drinking from a bottle, many a drop is missed, and if you want to save yourself the hassle of changing clothes, a practical bib is a good idea. Soft material and child-friendly patterns and colours make the bibs a practical companion at mealtimes. Simple Velcro fasteners, ties or press studs ensure a secure hold and prevent slipping. By the way, you can also find detergents in our care category.

Special sleeve bibs provide additional protection for baby clothes. Whether it's their favourite juice from a sippy cup or their first attempts to spoon up their own porridge, stains and wetness are practically pre-programmed. But the little ones are supposed to learn to eat and drink on their own, and it's practically impossible to always reach in between to prevent a mishap. With a long-sleeved bib made of washable and easy-care material, you can relax and watch your little one's first attempts. After the meal, the bibs go in the wash and the next meal can come.
Colourful placemats - practical helpers for clean and happy meals".
The beautiful kitchen table is well protected from stains and wetness with a practical placemat. Colourful and child-friendly motifs also appeal to the little ones and turn meals into something very special. Easy-care and washable, they can also be used as a base for playing and painting and protect the tabletop from scratches and crayon colours. With the huge range of bright and colourful motifs, it's not so easy to choose.