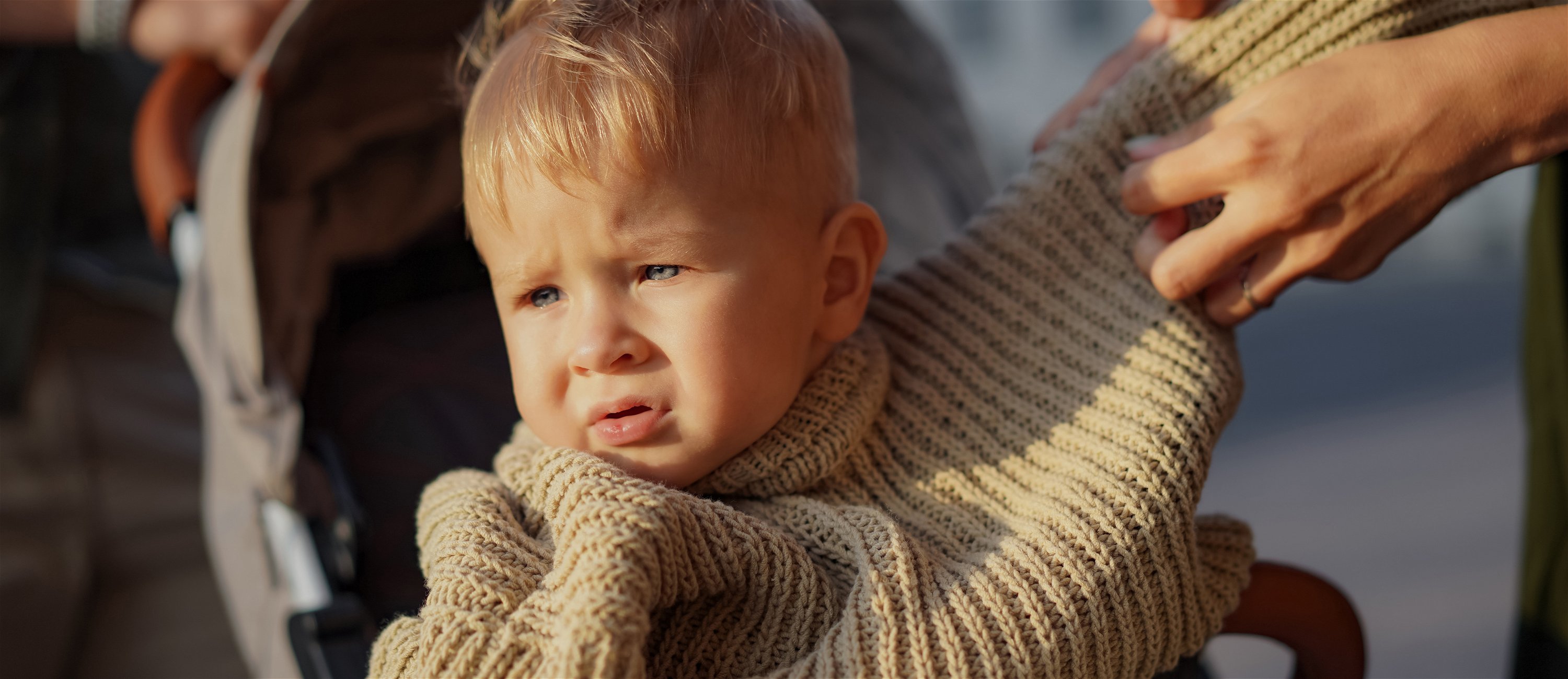 Magical tops
Babies still have very delicate skin. So when choosing tops for your baby, make sure that they are breathable and made of soft cotton that has been tested for harmful substances. It would be perfect for hygiene if the baby tops can be washed at 60 degrees. Additional drying of the shirts and jackets in the dryer makes the laundry nice and soft. Your baby will feel comfortable and safe in them. As the baby's head is still sensitive, it is advisable to buy jumpers or shirts with an expandable head opening. These garments usually have press studs at the front, back or shoulder. This eliminates tugging when putting on and taking off. Your baby will grow very quickly, so you will soon need new tops. It is best to buy the clothes in neutral colours and not only in blue or pink. That way you can use the tops for other children as well.
Fashionable variety for little trendsetters: T-shirts, polo shirts and shirts for every occasion
The collections are seasonally coordinated. In the summer months, you will need more short-sleeved tops for your little one. But the best-seller all year round is the T-shirt. This flexible garment comes in all imaginable colours, shapes and for every age group. If you want to be a little fancier, put on a polo shirt for your child. Your little hero will probably also like to put a shirt with long or short sleeves over his favourite shirt. Princesses will appreciate a colourful blouse with a plain shirt underneath to match their little skirt. On colder days, just throw on a pretty cardigan, waistcoat or cardigan over it.
From rain showers to cool breezes: Practical and stylish jackets for all weathers
Small jackets made of soft shell, soft hooded jackets made of velour or cotton round off your darling's outfit. Always dress your child in a two-piece look when the weather is unstable; this not only looks cool, but is also very practical. Rain jackets are just as much a part of the top range as blousons or blazers. Functional jackets are an ideal companion in spring and autumn because they are wind- and water-repellent. Buy them one size larger, then a thinner cardigan can be worn underneath on cooler days.
Stylish and warm through the cold season - children's tops for every occasion
In the cold season, your baby should certainly not freeze. Long-sleeved shirts combine well with warmly padded waistcoats, knitted and cotton jackets and fleece gillets. Adorable hoddies, like those worn by the grown-ups, are a fashion highlight. Jumpers are at the top of the popularity scale for parents and children. You can get them in different materials, different shapes, in one colour or printed with your child's favourite motifs. Thickly lined winter jackets are guaranteed to keep your child warm. Warm winter jackets that are of high quality are characterised by the fact that they remain breathable despite the thick lining. When washing, of course, the ticking must not become lumpy or thin. Always follow the washing instructions when caring for the clothing so that your child can enjoy their favourite item for a long time.
Several well-known brand manufacturers offer children's tops for boys and girls in modern collections. The well-known fashion labels have designed their assortment especially for toddlers and assure quality, functionality and durability of the articles. With the outfits you choose, your child will be well dressed and feel comfortable on every occasion. By the way, you can also find great bargains in our SALE!