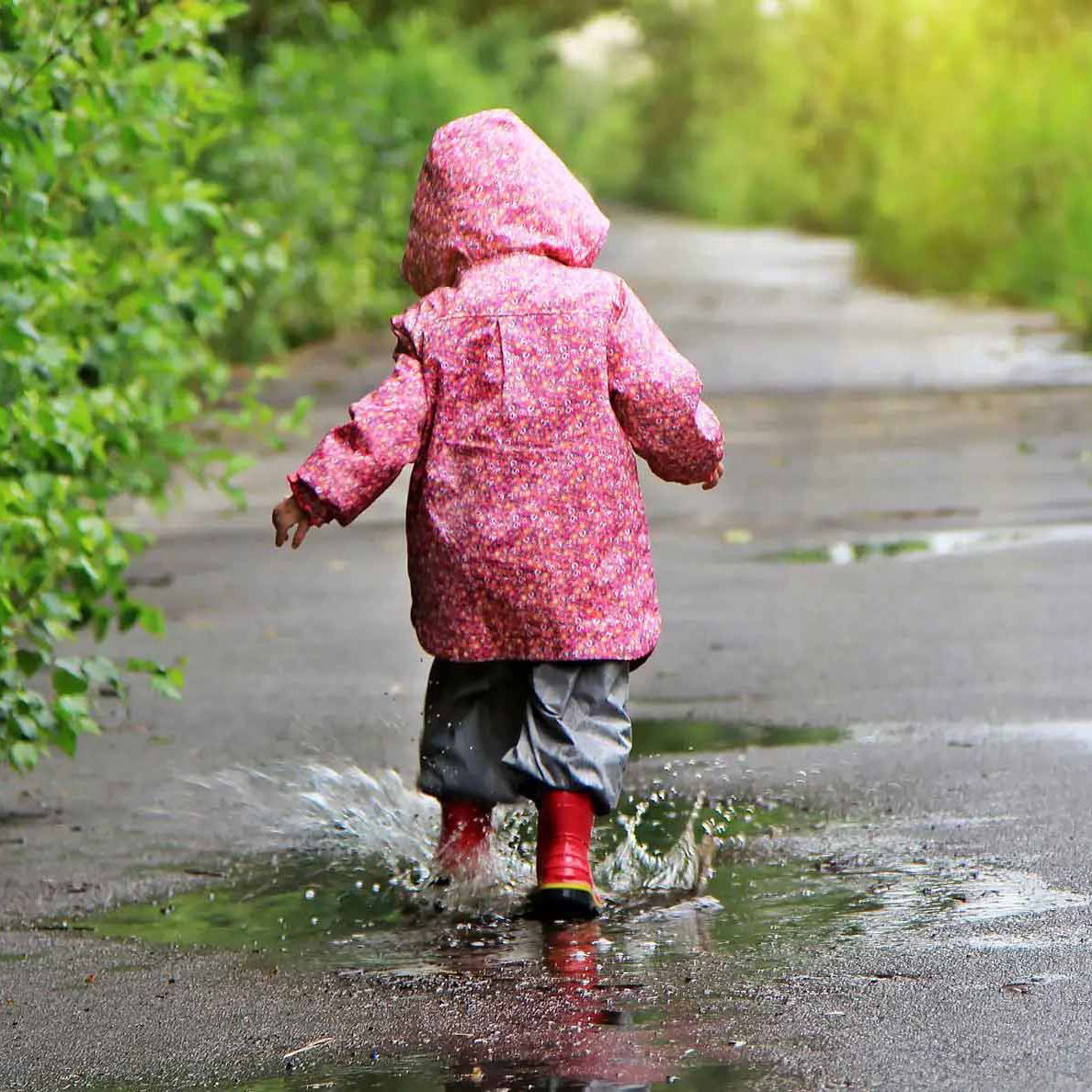 Carefree play in the rain with high-quality rain protective clothing for children.
What could be better for children than playing outdoors in the rain and taking a running jump into puddles? While we adults dread it, it is great fun for children. To make it even more fun to play in the rain and not to lie in bed with a cold afterwards, good rainwear is a must.
Fashionable rainwear for children - protection and fun in all weathers
To ensure that the weather conditions don't harm your kids, various well-known brand manufacturers have developed special rainwear. The focus is not only on high-quality materials, but also on functionality. The right rainwear is not only waterproof and dries quickly, but is also comfortable for the little ones to wear. Besides, the rain jacket and rain trousers should of course also look fashionable. Because hardly anything can brighten up the mood more than a colourful rain jacket that you can put on in bad weather and go play outside.
Especially in the transitional season, your little one is well protected by extra clothing for out and about. Rain trousers are waterproof as well as breathable. Models with removable straps or rain dungarees ensure that the clothes do not slip and children can dig in the sand or jump into puddles without worrying. A rain jacket or rain trousers with side pockets ensure that small toys can also be taken along .
Combine the rain dungarees with a waterproof rain jacket and rubber boots, a rain hat or a transitional hat under the hood and your child is perfectly protected. In cooler weather or in winter, the two-piece thermal underwear gives extra warmth. Thanks to its breathable, insulating texture, it keeps the skin dry and warm.
Winter adventures in the snow with snow overalls and snow trousers for children
When winter arrives with its ice and snow, you can let your child play in the snow with peace of mind. A snow overall is an essential part of your child's winter wardrobe. These practical garments provide your child with all-round warmth and keep them dry. Elastic arm and leg cuffs ensure that no snow can penetrate the suit. The overall is made of waterproof, windproof and dirt-repellent material. With the additional thick padding, nothing stands in the way of fun in the snow. The snowsuit is quickly put on and taken off thanks to generous zips.
You can also successfully combat the cold and wet in winter with snow trousers. This garment is also windproof, waterproof and breathable and has an insulating warm lining. The straps keep the trousers exactly where they should sit. The back is always covered. Winter jackets with thick linings and hoods are the perfect combination partner for ski trousers.
Stylish and functional weather protective clothing for children in a variety of colours and sizes
Whether you choose trousers, jackets or overalls against the bad weather, we offer a wide range of models in different colours. When buying overalls and trousers, pay close attention to the fact that there is enough space under these pieces for other clothing. When choosing the right size, remember that your child is buying freedom of movement. Therefore, it is best to always buy the larger model. Looking for top brands? Of course you can find these brands in our online shop!