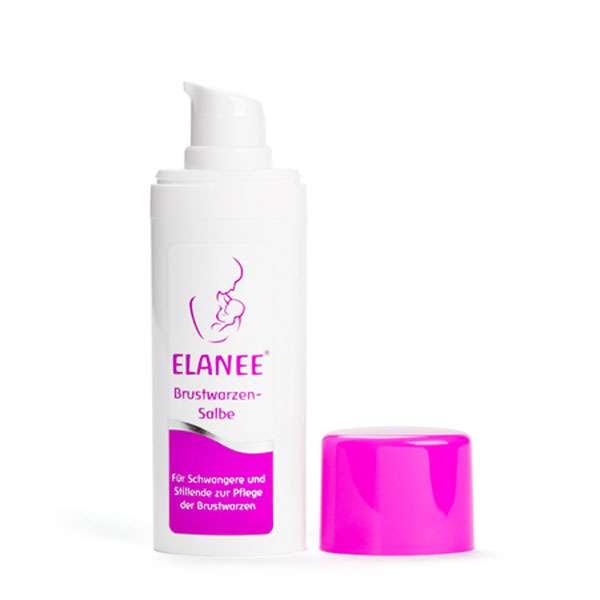 Product information "Elanee Nipple Ointment"
From the seventh month of pregnancy!
Especially in the first weeks of breastfeeding, many women suffer from highly stressed nipples. ELANEE Nipple Ointment was developed together with pharmacists, midwives and mothers to counteract this problem and support mother and child in breastfeeding for as long as possible.
It has a preventive effect during pregnancy and a nurturing effect during breastfeeding. The combination of purely natural ingredients and the addition of vitamin E have a regenerating effect and care for the delicate skin. The ointment is simply applied to the nipple and areola after breastfeeding and as needed. The ointment does not need to be washed off before breastfeeding.
ELANEE Nipple Ointment contains
no preservatives & fragrances
no butyl hydroxytoluene (BHT)
30 ml
Leftover nipple ointment can be perfectly used as lip balm!
Manufacturer "Elanee"
The all-natural product range for pregnant women and breastfeeding mothers
During pregnancy, the body reacts more sensitively and intensively to external and internal influences than usual. The birth and breastfeeding period also pose new challenges to health and well-being. In order to be able to enjoy this time in harmony with your baby in a natural way, we have Elanee has produced a high-quality product range.

Elanee The company attaches great importance to selected natural materials, careful manufacturing and comprehensive product controls. The range includes articles for pelvic floor training, breast care products, breast milk bags for storage, support belts for pregnant women and particularly skin-friendly nursing pads.