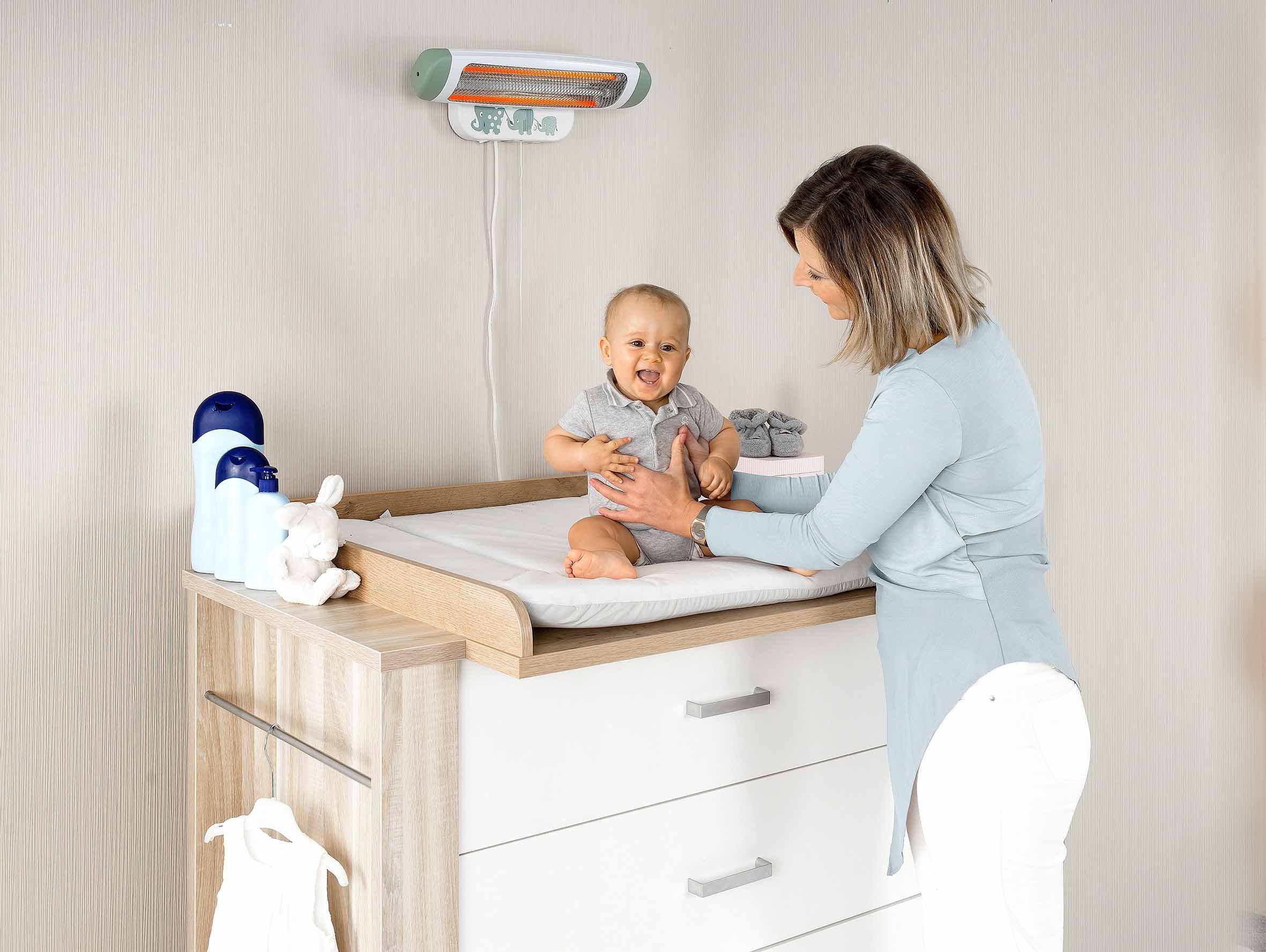 About warming care articles for the baby
Soothing warmth for baby careA baby's body is not yet able to adapt to changing temperatures. The little one quickly starts to freeze. So that your little one's body doesn't get cold, there are useful items in the Warmth in Care category that prevent this from happening. Warmth not only conveys a sense of security, but can also have an positive effect on the well-being of your child. Soothing essences in grain pillows relieve minor ailments and help to fall asleep.
Perfect warmth for baby baths: Room and water temperature in harmony
When bathing your baby, the room temperature must be just as right as the water temperature. Before you clean your little one in the bath, warm up the room temperature. Make absolutely sure that the water temperature is right. It should be around 37 degrees Celsius. You can get bath thermometers to check whether the water has reached the optimum temperature, and some of these can also be used to measure the temperature of the air in the room. Thermometers are available in a wide variety of models. Heat meters embedded in funny animal shapes or packaged as ships also serve as toys for your child. Practical are also the articles that change their colour when the water heat changes, so that you can immediately recognise when the water is getting too cold. In our textiles category you will also find cute bathrobes and bath towels for your child.
Cosy warmth after bathing: Radiant heaters for baby's room and bathroom
After a relaxing bath, take your baby out of the bath and wrap it in a soft, pre-warmed hooded towel and place it on the changing table for changing and dressing. It is a good idea to install a radiant heater above the changing table to provide constant, pleasant warmth. Radiant heaters are also available with a stand. You can then use this variably in the bathroom or in the nursery. The heaters have different temperature control levels. Radiant heaters are also useful in the transitional period when the heating is not yet on, but the rooms are slowly getting too cold for your unclothed child. Radiant heaters with a high wattage ensure that even large rooms have a comfortable temperature.
Versatile heating pads for children: cuddling, soothing and warmth all in one
Gone are the days when bed bottles for children were filled with hot water and then got cold, so you had to remove them from the sleeping child again. Cute heat pads that can be used to cuddle, relieve discomfort, as a cooling pad or as a source of heat are more pleasant and practical. Even after cooling down, they remain with your child and do not radiate cold. In this section you will find covers with adorable patterns or plain colours as well as "animal friends". These covers are wrapped around bags filled with oats, cereals, cherry stones, grape seeds or amber. To use, remove the bag and heat it in the microwave or oven according to the instructions. These pillows are also a great source of warmth if your little one has a tummy ache or earache. If you would like to vary the use of the pillows a little, you can find a number of changing covers for them.
Moor cushions and grape seed compresses: versatile help for baby's complaints
A moor pillow, on the other hand, is often used as a cold compress and is used for swellings, but it can also be used as a heat pad. For your baby's complaints, such as flatulence or colds, use the chest and tummy compress for relief. The accompanying grape seed pillow is slid into the integrated insert pocket after heating. The belt is fixed to your child's body with the help of a Velcro fastener. This way, the heat can unfold its healing power in the right place.