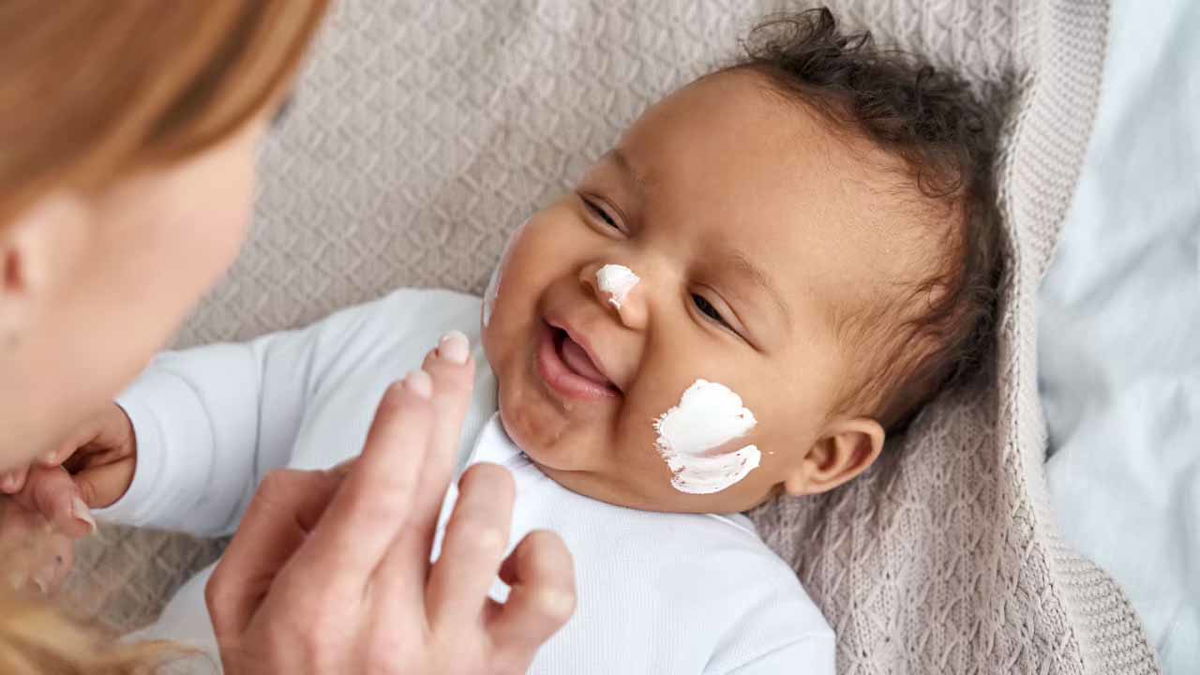 Useful things for child care
Your child needs daily care. This includes daily washing, bathing, skin care, brushing teeth, combing hair and cleaning finger and toenails. In the body care category you will find the right aids for this. The commercially available bath additives, shower lotions and soaps are not so suitable for a baby's sensitive skin. Make sure that the items for your baby's care do not contain any allergy-causing substances such as dyes, perfumes or preservatives. Plant-based creams and lotions gently cleanse and care for your baby's skin. Many cosmetics manufacturers have care products in their range that are precisely tailored to baby skin.
Gentle baby care: skin, hair and bathing pleasure
Your baby's skin will stay beautifully soft and rosy if you bathe your little one with a plant-based wash gel. A chic bath set consisting of a baby bath and stand are ideal for this purpose. Wash the hair with a gentle baby shampoo. There are also products you can use for skin and hair. Apply a care lotion to your baby's body after the bath. The face gets a special face cream. Use a comb and a soft brush to care for your child's hair. You can find bath towels & co. under textiles and of course we also have cute toys for bathing!
Soothe sore baby bottoms
Clean the heavily used nappy area several times a day with a baby oil. In addition, apply a nappy cream. Baby powder is good for sore babies' bottomspos and even helps against bacteria and yeast fungi. Baby oil is also good for massaging the little body. Oil has a moisturising effect on the skin. If your baby has a tummy ache, rub your baby's tummy with tummy oil. Massages are good for your little one. Rollis, soft massage gloves or massage brushes are good helpers.
Pretty and practical care sets
Pretty manicure sets for finger and toe nails contain small scissors, nail clippers and files. Always keep your child's nails short so they don't scratch themselves. The health and hygiene kits also contain what you need for nail care. In addition to nail utensils, you will also find a fever thermometer, a medicine spoon and a medicine syringe. The individual items are stored in a toilet bag, case or basket so that you don't have to search for anything.
Proper dental care from the first tooth
Brushing your teeth is not only compulsory from the first tooth. Even before that, you should brush the roof of your baby's mouth with a finger silicone brush. This is a good preparation for proper brushing. Teething can cause your baby terrible pain. Alleviate the symptoms by rubbing teething gel on the roof of your favourite's mouth and offering your baby teething rings from Nuggis. These stimulate the circulation, massage the gums and clean them at the same time.

Clean your child's first and subsequent teeth with toothbrushes and toothpaste for children. If your child is old enough to brush himself, buy a brush that is suitable for little hands. With a colourful toothbrush or one decorated with fun motifs and tasty toothpaste, brushing is even more fun. Encourage your child to brush after every meal. Electric toothbrushes go down well with little ones. You can use them with a three-month-old child. Additional attachments for cleaning the tongue and gums ensure a healthy mouth from the very beginning.

If the milk teeth fall out, collect them in a cute tooth box.